Jen at A Beautyful Sentiment is having a random giveaway for US residents and all people need to do is doing a little bag check...it's always fun to see what people are carrying with them, so I took some pictures are entered.
It's a red lesportsac pouch with floral and heart pattern. I got it last year and it hasn't looked worn out yet...
1. Anna Sui mirror
Well, it' just the prefect size, shape and it's quite handy (with the magnifying part) and low maintenance. I might start using the white one since black gets a bit gloomy for the warm seasons.
2. Anna Sui Face color accent 400 in Stila compact.
My only matte powder blush...
I never took this damn thing out and the compact cracked!? I bought it just for the case...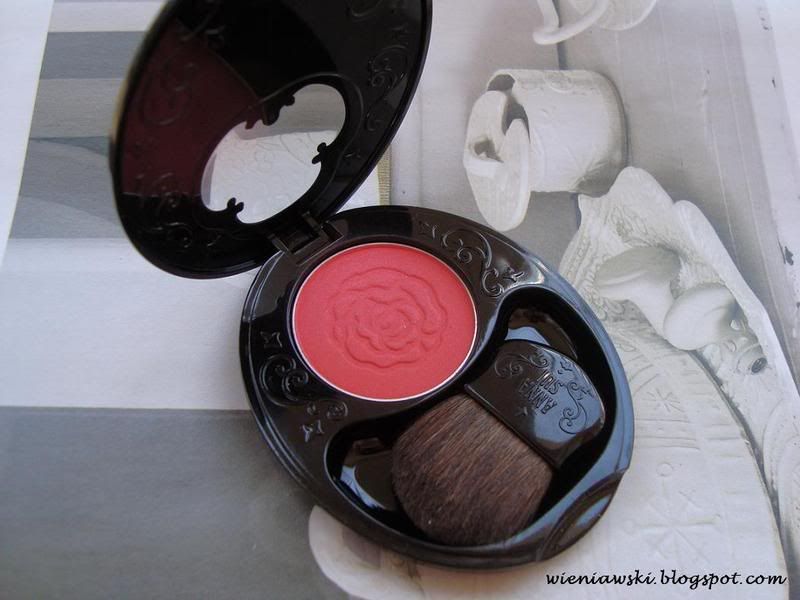 Well, it took way too much space with that useless brush there anyway...
3. AS blotting paper
Worst blotting paper I've ever tried. I am using it as camera lens wipe.
4. Wet n Wild lip tint in Cherry Mint
This thing looks nothing like cherry...
5. Clean & Clear pimple gel...
Acne is the agony of youth. *Sigh*
6. Comb and Hair pin
I kept losing my rubber band so now I use a pin instead.
7.Tweezers
I will become panic if they are gone, seriously.
8.
Rhoto Lycee eyedrop
Got it just because of Aragaki Yui
They have a new one out now! (Packaging is not as pretty though)...I want her top btw...
9.Nars Super Orgasm
There are even more glitters inside the blush...I like it though.
10.Too face flatbuki
Cute and handy.
11.Stila Cherry Crush
My 2nd tube, I will go back to Benetint or Convertible colors after this.
12.Stila moisturizer (hand cream)
I have normal skin so I don't use moisturizer all that often on my face, and for your information, now I use Elizabeth Arden on my feet...Just to finish it up...