Why this and why now? If I am claiming to be a newly blush addict, why haven't I even tried the Cult favorite orgasm? You might be wondering or you just want to head straight to the review, Too bad, you just have to bear with me for a little while and let me explain the whole story with
Nars
and why I haven't dip in it until now...
Why not Orgasm?
1. I've never been a fan of professional brands like
Nars
, Mac... they always give me an professional impression but I just couldn't seem to be able to pull those bold colors on my face since most of their models are Caucasians with dimensional features, it's not strange to see an Asian shying away from it, right? Anyway, I do like how other girls pull such looks off beautifully though) , it's just in my current stage of makeup skill, I am more or less see makeup as a little icing on the face and MAC and
Nars
seems to be "too much".
2. The plain black packaging is a little bit on the boring side. If I were to buy something that's housed in a plain black case, it might as well be a Chanel. (Well, I think I am a bit too young for Chanel,
Ok
, maybe it's just my wallet...)
3. Orgasm? The name just throws me off...Do I really want to walk in to Classical Dynamic (as cool as it sounds, it's physics...) looking...horny? I don't even want to think about it. Plus, if my roommates sees this, she will laugh her butt off. (Once we were forced to go to a shopping center with another friend of ours, as we passed by a MAC store, with all those merchandises with black packaging, she became confused and turned to me : "I thought Mac[
intosh
] are all white..." )
Yup, that's peer pressure.
4. As a favorite like that, there must be a ton of dupes with much more interesting packaging and finish. In fact, I '
ve
already got three peachy-pink blushers that are pretty close dupe to the color:
Stila
convertible Color in
Gerbera
, Wet n Wild in Golden Pink and
Tarte
stain in Tipsy. (Of course I didn't even realize it .)
So Why Super Orgasm?
1. "Who want the plain old orgasm when you can have super orgasm?" This little sentence in the October issue of Nylon magazine just got me...
2.After playing with
Stila
gerbera
and tipsy by
tarte
, I recently discovered that peachy pink is a great color for the face, it's warm, natural and gives a nice glow. I haven't gotten any peachy pink powder blush yet and I was quite interested in the
Coralista
form Benefit, while I love the paper box Benefit have, I am always afraid of squashing it by accident.
3. Several
bloggers
raved about it:
The Muse
said that it gives a nice flush and is suitable for all seasons (I've bought several blushers just because of her posts, none of them disappoints me!)
Arora
(for those of you who can read Chinese) said that the blusher is quite flattering.
4. I've seen several close-up pictures of the blush and I love those gold foils on it! Just looks so pretty!
5. I had a temporary stroke...I was supposed to wait for Muse's review on the
Coralista
but somehow ended up wandering in
Sephora's
site then the next thing I know...I grabbed this instead.
Back to the blush. Since all I am looking for is just a peachy pink blush with a good color pay-off, I didn't really have that much expectation since it's just mu first
Nars
and I never really cared about the orgasm hype anyway.
The shade of Nars Super orgasm is a peachy pink with loads of gold flecks (I didn't put it toward the sun so that it won't turn orange) if you really want to get an idea of the
razzle
-dazzle of the blusher, click
here
for a picture of it with direct lamp light shinning on it. Many
bloggers
said that it's a pinker version of Orgasm with better pigmentation, which totally floats my boat since, when it comes to any makeup, I feel slightly cheated out for flashy color that doesn't show. Also, I want as thin of a layer as possible.
The
texture
is quite fine and the powder is firmly pressed in a way that it's easy to pick up color from the pan, I like
the
rectangular design of it quite a bit that the right width for my blusher brush and it's just long enough so that I can swipe the brush through. (It's so much work getting the color out from those tiny pans from
Stila
and Anna Sui so I am always too lazy to use them. )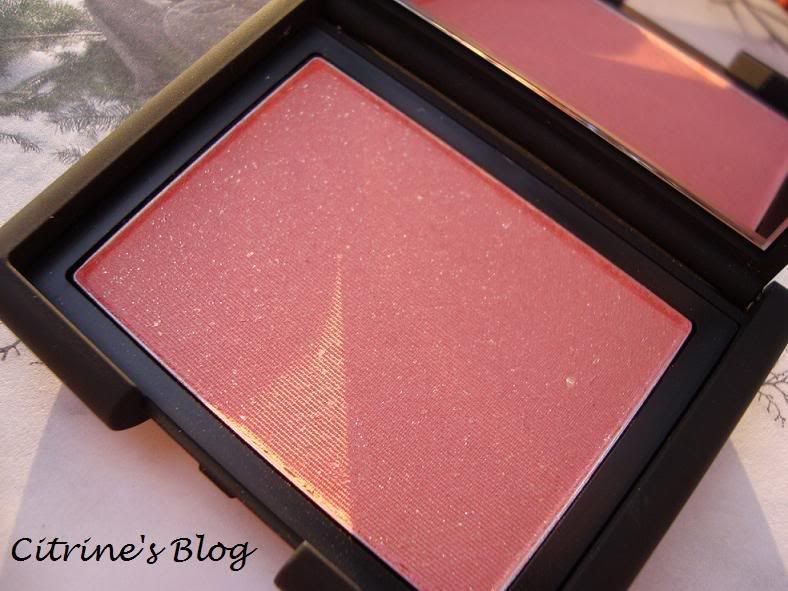 The gold flecks in Super Orgasm look a bit on the scary side once I saw there are so many of them, but I am glad that this blusher gives me more of a flush rather than a golden shimmery finish. Yeah, there is a tad bit of shimmer here and there, but the flakes break down into very fine pieces of stardust that would neither make you face glow like a light bulb nor exaggerate the tiny imperfections like freckles/pores.
Overall, it's a decent blusher I would find useful all around the year. (All I wanted was a coral blush that looks natural) It's gives similar glow as
Tarte
Tipsy (this has a very slight sliver
iridescence
but is still very natural, smells great, the gel formula just sweats a lot if I take it out door for touch up.) and
Stila's
convertible
color in
Gerbera
(lasts a long time on my face and appear to be
very
natural, but cream blush usually can't be kept as long as powder)
In short, I still don't get the hype about
Nars, up to this very day
. (I mean, if I ever run out of this, I will just go ahead and get Coral from Bobbi Brown, at least it has a transparent lid that shows the pretty color. )