Let's talk about the item I got in a chronological order: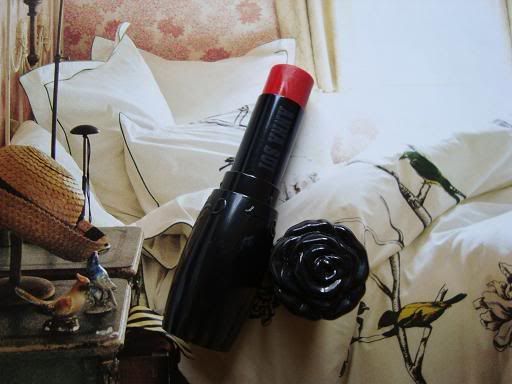 Anna Sui face color stick in 400 (I love that rose cap!)


So, is it an old fart that has been discontinued for ages?
First, I am really confused about how Anna Sui manage the line. First, the Japaneses site and the US site are carrying totally different things: the US site does update whenever a new fragrance is out and seems to have a
huge
selection of color...(You picked them on a spectrum!) while Japaneses site has all of the little stuff including puff and cosmetic tray and skincare and all the newest release from the maker Albion...In another hand, the items available on the Anna Sui official site based in US are also available is many e-malls, so I guess it will be OK if you purchase them online?
Since there is no date on the tube and I just bought it for the heck of the tube. I tried it out a few time and it wasn't that shabby. It's like a natural cheek stain with nice rosy scent. However, I prefer the scents from Tarte (juicy fruity scent!) and Benetint (rosewater) for the over-all performance.
Let's fast forward to my more recent purchase.
Anna Sui face color accent in 400
. In what I call a tomato red. The case is cute compared to many other brands. However, I prefer the round jar with puff.
If you are bored, read on.
1. I don't like this oval shaped compact with the word ANNA SUI in the center, to me, it's like "Anna, did you run out of your signature design that the only way people can tell that it's Anna Sui is to print the your name there?" The name actually break the last bit of symmetry left...not pretty.
2. I hardly consider those squiggly things a design just by themselves. While there is still a rose imprint as the prima donna, it's still a design flaw IMHO since most people buy a blush to use it, the rose will fade eventually and left the case without a focus.
3.While the brush that came with this is very soft and smooth that it glides on the face, it's another just-a-pretty-face out there in the Sui family: it's so smooth that it doesn't pick up much color. Then even it it does, the color will go on as streaks since it's has such a small contact area and it's not fluffy at all.
Enough rambling.Let's get back to topic. (Despite how much I complain, I love all my Anna Sui product nonetheless...Buying Anna Sui has been a habit of mine, that's how bad it is...)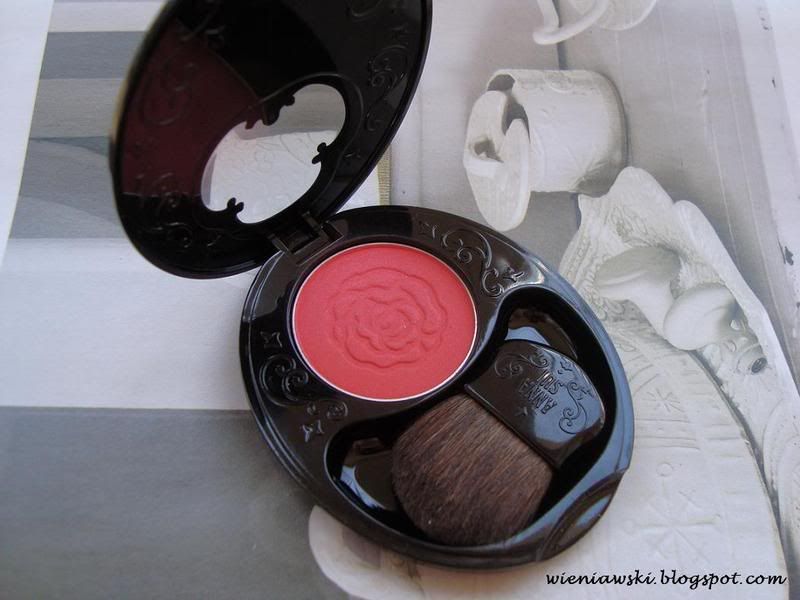 Well, I picked this shade up since there was a mini sale and buying this will also give me free shipping (I picked up a powder case at the same site) As a result of the sale, all of the shades were out beside the white ones and this shockingly red 400... PJ from A touch of Blusher said that this one is a lovely natural flush...So, why not?
It' s is indeed natural. The powder is matte and the texture is very fine so the red will go on as a flush. A
random chick on Xanga
mentioned it it's so red that it looks like some one just slapped you. (She used the eye color accent in 400 and double it as blusher, I don't know how good was that since the blusher and eye color do have quite a different formulation.)
While it's not a slapped look on my face, I don't particularly enjoy using this blusher: Yes, it is natural but it's the
exact
same color that shows up on my face when I have been outdoor for a while (I do wear sun screen) because of the heat...and in a yellower lighting, the a orangery undertone gave me a slightly sunburned look...Why would I bother to wear it if I get this kind of look on a daily basis?
Maybe I will enjoy it a little bit more in the winter...Let's see!