It sure took me long enough consider how long I've been having this. One thing you should keep in mind is that, my blog is the last place to go if you want an up to date news surge on cosmetic. Not only it usually take me forever to make a decision when buying cosmetic (then there are some random brain-death impulsive moments) , I also like to wait a while before writing an review so I would not be as biased.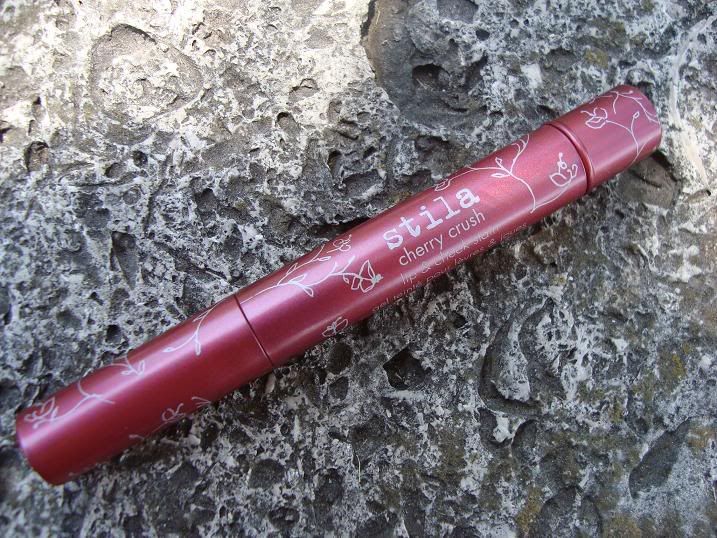 Anyway, this, Stila Cherry Crush Lip and Cheek Stain, is indeed my favorite cheek color and my review might be surprisingly short on something I really like. (Since there is not much to complain.)
I generally prefer cheek stain than power/cream blusher since (beside the lasting power) all they do is adding a flush of color without changing the texture of my skin (No matter how thin some cream/powder blush is, it always feel "thick" to me, since I have no luck with foundation and that kind of base makeup).
Stila Cherry Crush is beautifully packaged and have the same structure of the lip glaze, which gave me an issue since built-in applicators gross me out like no other. But I learned to deal with it (i.e, washing and soaking it after each and every use. Yes, I suffer from mild OCD) since the color shows up in such as pretty way that all it does is making me look like I just had a really good day. The rosy/mauve color is so natural that I sometime just wonder why do I look so healthy without realizing I am actually wearing something.
Since it's a gel stain, so it's a lot easier to spread compare to the liquid Benetint, which give me a blood clog if I don't work fast enough. Oh, did I mention this smells like freshly picked cherry, love that!
Despite how much I love this stuff, I am probably not buying again it since the product is a complete rip-off, 24 dollars for 2.4 ml (0.08oz) of gel stain. No matter how nice the color pay-off is,this thing will run out in no time if you actually use this...In my case, after using it 3,4 times a week for about 1 months, now there is only 1/3 left behind.
Actually...hem...I've already got a backup...
P.S. For people who complain on makeup alley/youtube about not being able to see how much is left in the opaque tube...Have you ever try to hold it against a light source?