Again, I took the photo for this ages ago ...It's St. Patrick's day...I might as well post an index page for people who like green shadows.
When it comes to makeup, green is one of the few colors that I can put on my face with relative confidence: an allover wash on the eyelids gives a refreshed look , deep green eyeliners highlights the brown in my eyes and green transparent gloss bounces off the redness in a very subtle way (since green is right opposite to red in the color wheel) and is a nice alternative to the boring looking clear gloss. Green is pretty refreshing to look at, in my stash and on my face.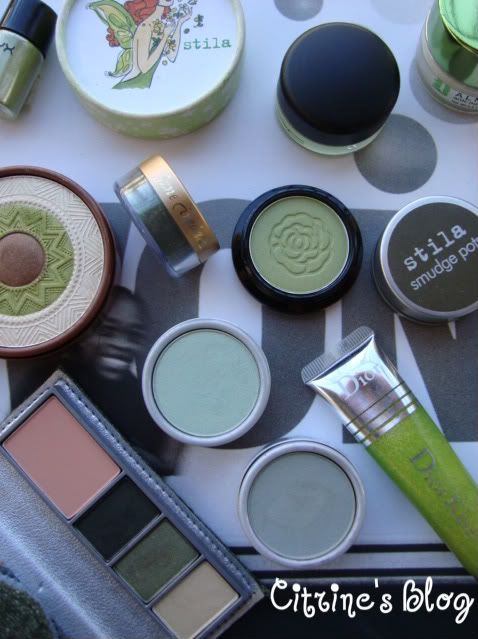 Some lovely green items I have, shown in the picture above.
NYX Ultra Pear Mania Pigment
in Lime Pearl
Almay Eye Cream
: Hypoallergenic? Good for sensitive skin? It stings and doesn't get absorbed that I can only use it on my cuticle...
Anna Sui Eye Color
in 911
Stila Smudge Pot
in Jade
Stila
Spring Ephemeral
and
Acapulco Trio
Stila
Perfectly Sage Palette:A combo of deep olive, fern green and gold.
It's a beautiful dark green actually but I don't know how to use dark shadow so I put it on for swap, I swapped it out...and received a no-brand beaten up little brush that I can't even use as keyboard duster...I miss that peachy blush...
Stila Eye Shadow Pan
in Cha Cha (minty green) and Daffodil (gray green)
Jane Iredale 24K gold dust
in green : kind of like a less pretty version of Stila Jade.
MAC Tendertone Lip Balm
in Shush: Fresh Green that doesn't show or make you look sick when you layer on too much.
DiorKiss Lip Gloss
in Granny Smith 308:
The shade Golden Green looks so refreshing and pretty but those glitters are huge. Diorkiss are quite tacky as well.