If you haven't heard me mentioning it for the thousandth times, green has been my favorite color since I was 12 and it's one of a few colors that I can
sort of
pull off on my plain Asian black eyes.Oh yeah, I just find it a little bit amusing that for some people, no matter how "black" their eyes appear, they all call it brown...Whatever, under normal lighting my irises are black, so I have black eyes.
I am a big fan of green as well as a Stila newbie, how can I let go some of the prettiest soft green palette ever, even though the only place to get it was eBay. OK...I could have gone with three shadow pans and a empty palette, but that will be a whooping 48 bucks not including the compact. Palette are much more cost- efficient to me, especially during promotion and on Beauty crunch.
Here you go, the Spring Ephemeral Trio (The background is my everyday oversize green bag...)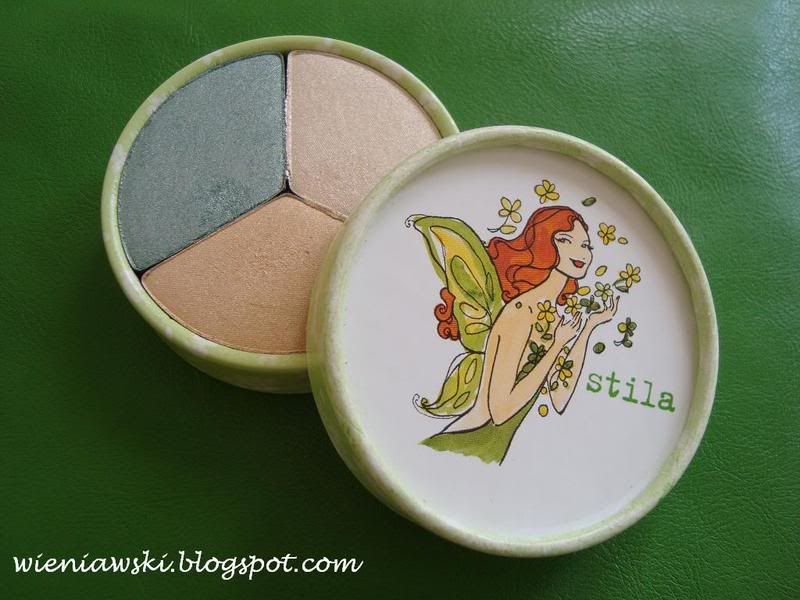 Although I haven't watched any cartoon/anime for ages (Who am I kidding, I just wasted my entire summer of 2007 watching the almost 500 episodes of Detective Conan), I like the the Stila girls a lot, I almost wish they could somehow bring them back on the packaging (well, while keeping the current metallic one at the same time.)
You might wonder what is the point of reviewing an item that has not been available since 2007. But one thing I can ensure you is that, Stila is very good at making similar (if not exact dupe) eye shadow shades popping out different seasons, I am certain that it will pop out sometime later and at the mean time, I guess you could always buy a single pan...I want (too broke to get them now) the ones the
Kiwi
,
Cha Cha
and
Seafoam
when it comes to soft green. If you are looking for a pretty dark green, I think
Jade
is gorgeous.
Back to the trio, under a warm (damn hot) afternoon sunlight, the shimmer and the beauty of the sea foam green show through beautifully. The soft gold and golden ivory looks really nice as well, I like to use only two shades from the palette at a time since I just don't like packing on too many colors on my face all at once.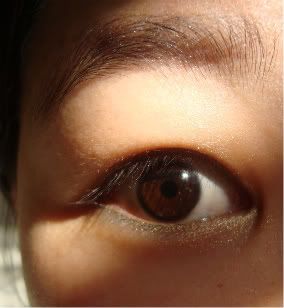 I like to use it as a little accent color to rim my eyes since too much Stila shadow can look quite frosty under normal indoor lighting. (FYI, I feel weird and look horrible with vibrant colors allover my lids and I won't wear makeup or do arm swatch just so that I can take pictures for the blog, that's just too much hassles. ) I think wearing green is a perfect way to brighten up a boring autumn day.
You will be ready to go (or at least I am) with a clear gloss or just some lip balm. Who cares if green isn't one of the trendy colors of Fall 2008?