Just look at what I found last week when I was shopping for food...(Actually My favorite place to shop is H.E.B, a Texas based grocery store, the place offer amazing discount like $3 dollars off on any Revlon) on their already dirt cheap
everything
. )
New limited edition nail color from Sally Hansen. I want that bottle in deep green (the silver one is neat too) ...so pretty! I remember these are around 2 dollars a piece, not pricey at all, but then I returned it to the spot (yeah, after putting it in my basket) realizing that I have a deep peacock green nail polish from Wet n Wild already.
I might get it next time it see a bottle hanging around though.
These are a little bit more conventional, I like that Turquoise and silver one a lot...Maybe that deep navy blue at the very right, maybe it won't look goo on me...I am not a punk fan.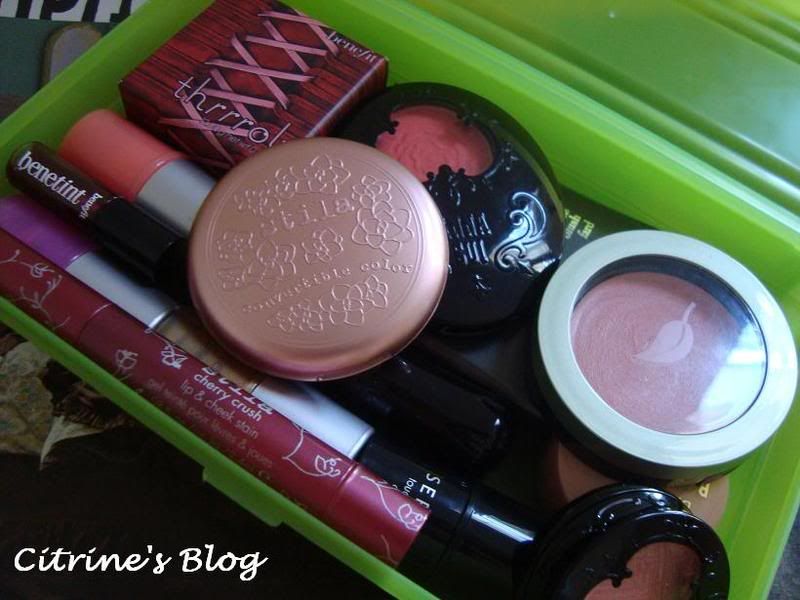 Here is a $0.5 pencil case that I use to store my sweet treats. I thought it's the perfect size to store the stuff I am actually using...I got one for my Stila eye shadow (probably will not be enough soon) , one for the mascara and eyeliner I am likely to use, one for the working eye shadow singles (the body shop, Anna Sui eye color single etc...) and this one for cheek color. There isn' one for lip gloss since I have way too many of them lying around.
My stash is a little bit bigger but I am unlikely to touch most of the stuff that don't belong to a pencil case, which means, I probably will give away to friend or toss those lousy drugstore shadow like Maybeline mousse pot, Revlon, L'Oreal, CoverGirl...
And for those who are interested, My cheek color collection so far (not including the one that I won't touch again)
1. Neautrogena mineral blush in rare rose (pressed into an Anna Sui jar)
2. Anna Sui
Face Color Accent and blush Stick
400
3.
Wet n Wild Beauty Benefits Blush in Golden Pink
4. Bourjois in
Lune d'Or
and Rose Ambre
5.
Sally Hansen Cream Blush in Beaming
7.BeneFit Thrrrob and BeneTint Mini
8.Sephora cheek Stain in Pink
9. Stila Convertible Color Peony
9. Tarte mini Cheek Stain Trio
10. Stila Cherry Crush
Maybe I will stop buying blushers...