I should start get going with the blusher. Here is another drugstore find, Wet n Wild beauty benefits blush in golden pink.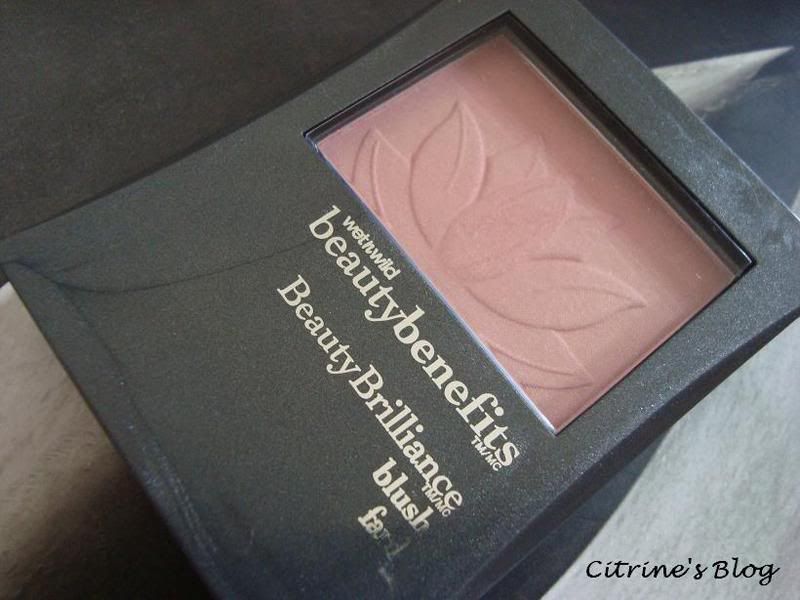 As I've mentioned, Beauty Benefits it's a slightly more expensive and mature sub branch of Wet n Wild USA. The package looks slightly less tacky (not much better though since they still have that purple metallic rims that's not shown on the picture.) The blusher is 8 dollars, not very cheap but still alright, especially I found (yet another) buy one-get-one-free manufacturers coupon, which I used it on a backup blusher brush.
Beside the coupon, what drove me into the blusher was, obviously, the lotus pattern. While it's not as pretty as the intricate ones from Anna Sui or Paul & Joe, it will still be a lovely addition to my beauty garden.
There are two high lighter/bronzer from the same line with even more interesting packaging: there are three colors on the lotus pattern, I still decided to go with this shade, since I thought I didn't have similar blusher in golden pink. (Ahem, I actually do, Bourjois round pot #34 in lune d'Or is quite similar...)
As it's called it's pink with loads of golden shimmer. The powder is not very firmly packed so one slight swip will give you quite a bit of powder. (I didn't take picture of the brush that came with it since it's quite flimsy.)
Maybe it has something to do with my undertone again, the pink doesn't show up at all. I didn't layer it on since the shimmer shows
very
well. Instead of a flush or rosy cheeks, it gives an illusion of a glowing face after that warm afternoon nap, quite natural looking and pretty if, and only if you are not that close up...Yeah, the shimmer are a bit too concentrated and will look kind of funny if you wearing it to some serious occasions.
Overall, not a bad product, however I prefer it as a sheer wash of color/shimmer on my lids though, just like my
Bourjois round pot.