Many think that it's too fancy-schmanzy to apply lip color with a brush when you can do it straight out of the bullet. I totally agree with that (Ever notice that I tend to dismiss any lipstick that doesn't go on/contain itself on my mouth?). Lip brush is just the only way I use to dig out potted lip products, lip gloss
with annoying applicator
and the finger-substitute for cheek stain. When it comes to slippery lip color, having a lip brush would also save a bunch of time(from maneuvering the bullet and repetitive smacking).
I used to have more than a handful of lip brushes(and used them regularly to dig out my much loved & discontinued
NYC Lip Slider
and
L'Oreal Jelly Balm
), but they just went MIA one by one, leaving only the Shiseido portable with me, for five years (and I thought I was faithful to their White Lucent Cleanser). Ever since my poor Shiseido got fried by the peppermint oil (in the LA Girl Lip Glaze) earlier this year, I knew it was time to
start hoarding again
hunt for the perfect one. Let's look at the contestants.
Shiseido, Muji S, Muji L, Paul & Joe Portable Touch Up Brush and Chomotto Beaute x Hakuhodo
All opened up.
When it comes to lip brush, the first thing I look for is natural, non absorbent hair like sable/mink/weasel/kolinsky (I actually don't know the distinction between these), which are usually gentle on the lips, let product glide on (instead of absorbing them), have right amount of bounce/stiffness.
Beside the hair preference, I always go for retractable/covered ones. Not that I need one for retouching on the go, a capped brush just makes it so much easier to maintain (and not wash every day). In that way, I just wipe off the excess after each use and cap them back so I can use the again.
I clean them with a drop or two of oil (mainly argan because my bottle was big/never ever with essential oil!) and wash them with soap/detergent infrequently. Beside the obvious laziness, my own theory is that the small amount of leftover lip balm would keep the brush in shape and lightly conditioned and frequent washing would open up the cuticles. Anyway, my lip brushes usually last for years...before they dissappear anyway.
There is that pen-like quality about these covered brushes that makes them so likeable/collectable.
Anyway, aside from the Chomotto x Hakuhodo brush, every one of them has the same mechanism: When unused, the brush stays retracted inside the smaller bullet. When you open the bigger lid, you slide it on the other side to push up the brush.
The Muji one at the very right also has that rouge push-up thing(it's just blurred). Paul & Joe doesn't.
A review for 1.
Shiseido Portable
was already written so I will just summarize it: The natural-haired brush (whole thing) itself is well constructed. However, the brush (hairy part) is narrow, thick and not tapered at all. It was OK at digging out lip balm/potted gloss not anything else. I stuck with it for five years because...I was actually stuck (it was the easiest one to get in US). Now, here are my new loves.
2. Muji Lip Brush with Aluminum Cap L ($7.25) & 3. S ($5.25) - Weasel Hair, Aluminum Body
The longer lip brush was actually my first purchase from Muji (along with a spoon) and I was very impressed (by both...Now I have the whole set of flatware). The matte, aluminum body is light-weight but very solidly constructed (no seam!) and the brush has medium amount of hair that's cut straight at the tip but slightly thinned out width wise. The brush feels smooth, resilient (perfect amount of stiffness so it's directional without being pokey) and it's perfect for grabbing and depositing color. Personally, I would prefer a bigger brush (for my bigger...surface area) but since the color lands exactly where it's supposed to, it doesn't take ages to paint my mouth with this brush.
As for the smaller one - The hair merge into a pinpoint as soon as it's damped. The only function it has is drawing an ultra thin line around the mouth (then taking days to fill it up/switching to a brush that works). I think Muji overestimated the geisha population.
4. Paul & Joe Portable Touch Up Brush - Natural Hair - Aluminum Body ($18-22).
This is a little different than the rest of the retractable brushes featured in the post. First, it's not made in Japan but China (it seems many people do mind it). The second thing is that I could not find out what the bristle is made of in all Paul & Joe's sites (didn't bothered with the French version, should I?). Since BeautyHabit calls it "finest Japanese mink" and the hair does looks more natural than it is artificial (there is slight color variation among the bristle, hair less bendy, without the nylon shine and doesn't drink up liquid as much) I will take it as natural.
The third difference/distinction is that it doesn't have a push up thing at the base. The brush unit is hanging loose most of the time and in order to secure it (keep it up when used and not clunking around when not used), you have to put the lid on one side or the other, to keep the silver ball(attached to the brush unit) in place.
The loose bit is a wee annoying, but who cares about the clunk when brush barrel is so beautifully designed! The gold (soft yellow champagne gold that is a little bronze in tone)tube is matte (resistant to micro-scratch just like Muji). The brand and Paul & Joe's signature chrysanthemum print is laser etched on, now I don't ever complain about the print coming off!
As for the brush, it has a larger area, tapered tip and densely packed hair that's softer but less sleek/slick than Muji. It absorbs more product and isn't as directional. However, it's really great at spreading gunky lip gloss and slippery lip color(like the semi-opaque lipstick from PJ)). It also gives a veil-like finish on lipsticks that are too paint-like/sit on top of skin.
5. Chomotto Beaute x Hakuhodo Covered Lip Brush
(¥2,376) - Weasel + Wooden handle (they didn't say anything about the metal part but I assume it's stainless)
So it's supposed to be around 20 bucks but I paid 39 shipped (eBay impulse brush shopping, never again). The brush is the widest and thickest(not more so than Paul Joe but the hair is more tightly packed)of the bunch. It's great at digging a generous glob of lip balm(and cream blushers that are not super pigmented) and does a decent-enough job spreading it out. It has a square tip that will give you a clean crisp line around the edge and cupid's bow.
I personally find the Chomotto brush a little stiff on the lips that it's less comfortable (more like less soft as it's in no way pokey) than the Muji and Paul & Joe. Aside from the stiffness issue (which is actually quite minor compared to many synthetic lip brushes by big American brands), whenever I use it for very slippery lip color, additional brush stroke would just scrape away the product I just applied.
The brush also has an awkward length for personal use: Too long capped, too short without it. (The length for PJ is also somewhat long but it's not as heavy when it's aluminum). Edited: Three hours after I posted the review(three weeks after I got the brush)I found out that the pink lacquer already has a small chip, I never did anything except for using it/opening and closing the lid...
It appeared to be(edited for chipping)a well-made brush and all but I just wish I paid the inflated price for something more suitable for my need. Better paint on the handle, perhaps?
As you can guess, I like Muji and Paul & Joe the best out of the five. They are both quite affordable, not too hard to get (Muji's online store has expensive shipping though) and get the job done. I have backups for both (PJ was on sale for 15 bucks at asos)but I am still keeping an eye on other brands. Luciky, makeup are the kind of lovers who never ask for commitment.
Close up of the keepers
The duds - The details (like the barrel edge that curves slightly inward) on smaller Muji is even more intricate.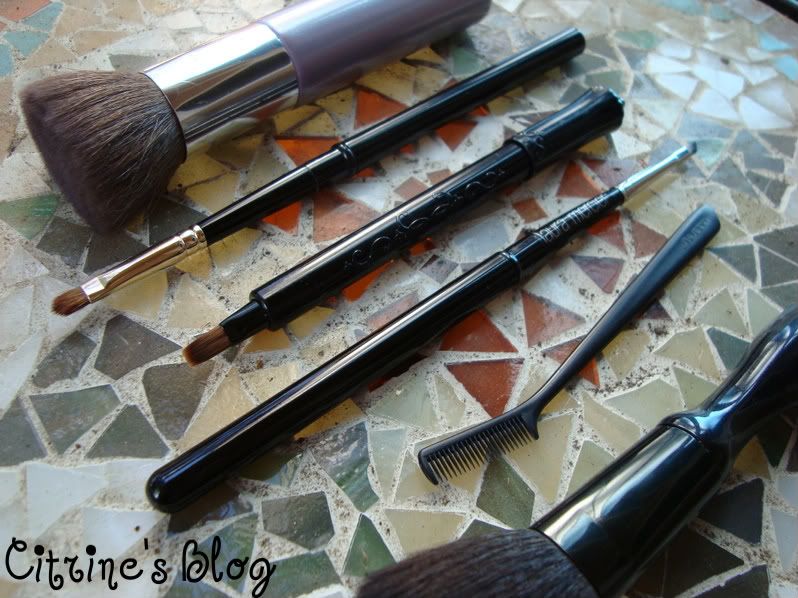 Before I end this already-too-long post, here is an honorable mention to Anna Sui covered lip brush (no link to the original review because I dissed it). You can see
the brush in action
(when you scroll down to the bottom).
After my initial whine back in 2008 (and after having other brushes to compare it to subsequently), it turned out to be one of the best one I have tried. The brush had bristle that is tapered at the tip but arranged in straigh line, the hair is slick/stiff without being uncomfortable and its area is just right(just a little narrower compared to Paul &Joe/ Chomotto). Basically, the brush head is the best of both(more like three) worlds.
The flaws(what I whined about) are that the brush
1. Is so light-weight to a degree it feels flimsy.
2. Scratches easily(due to the lighter plastic)
3. The lid is small/not very tight-fitting so it fell off and went missing
4.The brush unit is small metal part glued onto the plastic pen/too closed to the brush(where it makes contact with water). After the third year, the clear glue just gave up and the head fell off when the brush itself was still very much perfect. Soon after, the lid went missing so the sweet little tool became a goner.
I would totally get a replacement for this, but this is near impossible to find (found a listing in Rakuten and two days later the store stopped shipping to US. I guess I will just try my luck with the Hakuhodo Misako portable (Which itself is harder to procure than a horcruxe, ever since Hakuhodo USA stopped importing weasel/kolinsky)
So, the search continues....