I simply adore cheek /lip stains: They are light , long lasting, just the perfect amount of color to fake a little glow and wake you whole face up without looking made-up. Since I've tried several brands of the thing, I might as well put them side by side and give a overview on them. I think it's quite appropriate for Valentine's day, when you just want to flush a little bit .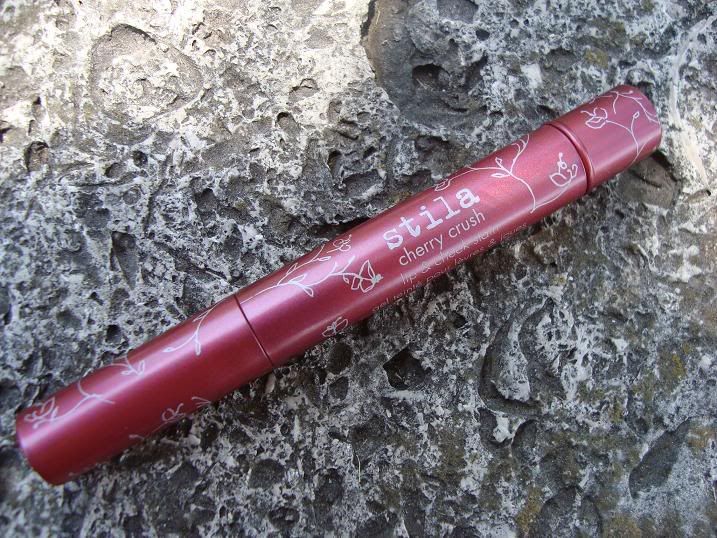 1.Stila Cherry Crush
It's a nice mauve/pink flush on me, makes me look like I have a really good day (I literally forgot the fact that I am wearing it.) I love love the color but the unit price is a bit bloody.
Pro
-Simply gorgeous color
-Beautiful Packaging
-With a fresh picked cherry scent
-It has many vitamins and cherry extract to condition the skin
- Has a natural sweet taste. (I got stung by a bee wearing it.)
-Gel form is very easy to blend and feels moisturizing and light
-Very decent color payoff, a tiny drop is enough for on cheek
Con
-You need to twist the end to get the color out, if you are too lazy to do that...no comment.
-Some people people might have some issue with the built-in applicator
-2.4ml for 24 dollars plus tax (cherry crush never went on sale, btw) What a rip off for something that lasted less than a month!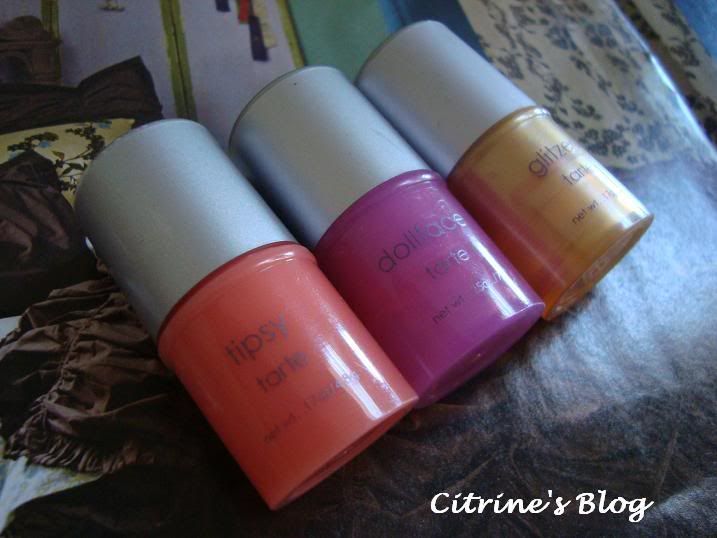 2.Tarte Cheek Stain
I have the ones in Dollface, Tipsy, and Glitzed. For summer sweet cheeks, I love Tipsy for the coral color with minimal silver shimmer.
Pro
-Delicious scents and color (this time it smells artificial)
-Very transparent finish and natural looking
-It has some skin conditioning agents.
-Easy to use if you don't use foundation, just put it straight from the tube
-28 dollars for a humongous 1oz jar , it will pretty much last you forever...
Con
-Somebody said that it's gooey and mess up foundation (come on, just dab it on using fingers)
-It melts and sweats in high temperature
-The color kind of disappears after a while
3.Stila Convertible Color
They call it a cream blush but I think it's more of a gel since they don't cause break out on my (God damned sensitive) skin and building it on adds only color, not opacity.
Pro
-Cute compact with mirror, painted differently for each shade so you can spot what you want.
-Fragrance free.
-Very good color payoff so a *tiny* dot is enough for each cheek.
-Wide color selection, I love every shade I have.
-Just dab and blend with fingers, the application is foolproof.
-Shimmer free transparent finish, positively natural
-Although it's a 4g pan, there are more than plenty to dig.
-Crazy Staying power, I put some on my arm and after shower and some sponge action, the color is still there...That's why you need makeup remover, alright?
Con
-Might not be moisturizing enough for the lips.
-Big contact area of the pan so it might dry out before you even finish with the pan?
4.Benefit Benetint
The classic flushed cheek, it has been around for 40 something years, so do I need to say more?
Pro
-The natural flush is flattering on many people
-You can use it on your nipples if you want, I mean, wasn't it designed for the strippers anyway?
-Scent of rose (a pro for me but might be a annoying for someone)
-Stays on forever, which means it will also stain your finger as you apply.
-The tiny brush is firm enough that you can use it to line your lips to make them appear naturally bigger.
-Has a good color payoff (better than all the imitators), plus the 12ml bottle can go a long long way.
Con
-It's bitter. Ok, I am not supposed to eat it...
-A bit drying on the lips.
-The liquid can look like blood clog if you don't blend quickly plus they get caught on peeling skin and makes the peel look even more obvious. (but again, no cosmetic looks good when your skin is not how you want it to be.)
-If you eat a lot and love lip product...pay attention while using it or the stain in the bottle will turn muddy before you know it. (That's more of my own fault)
-If you tip it over like nail polish bottle....
-It contains Quarternium-15, which releases formaldehyde, a carcinogen, according to
this
web page. (I think the article is as stupid as the Lip Gloss causes cancer one that were out last March)
P.S. One note that I rarely care about the ingredient list (in general, but I do tend to pick stuff with fewer ingredients if they are drugstore product) is that:
1) Hypoallergenic /For Sensitive Skin on a product usually doesn't mean a whole lot to my skin, they still irritates when they make every claim there is to make...(The use of phrases like "Hypoallergenic", "For sensitive skin" and "Noncomedogenic", is not regulated by FDA, so the company can use them all they want.


2) Lab test usually are using much stronger doses on a much smaller mammal, like rats, which I believe, are very different from human, to see the effect, so compare to using the Cheek Stain everyday, I still have a bigger chance hurting myself...by a metier...
3) It's usually what the company
don't
list on the bottle that hurt.
4) No law suit has been filed against Benefit yet( I mean, if you really were to get cancer from it...wouldn't some lawyers want to make a buck out of the company during so many years of company history?)
5)Alright, maybe it does indeed cause cancer and I have an excretory system of a rat. I still hardly use cosmetic all that often, I put on color makeup at most 3 times a week, and I have quite a bit to play with...
5.CoverGirl outlast Lip Stain
A lip Stain with a marker like dispenser, it's pretty darn good I have to say.
Pro:
-Several colors to choose from
-marker tip very easy to work with, you can line your lips with it then fill it it.
-Perfect size to toss in your purse.
-Non drying formula not watery either.
-Doesn't require using/staining your fingers
Con
-Tip so small that you can't finish up really quickly
-I have a feeling that it will dry out like a marker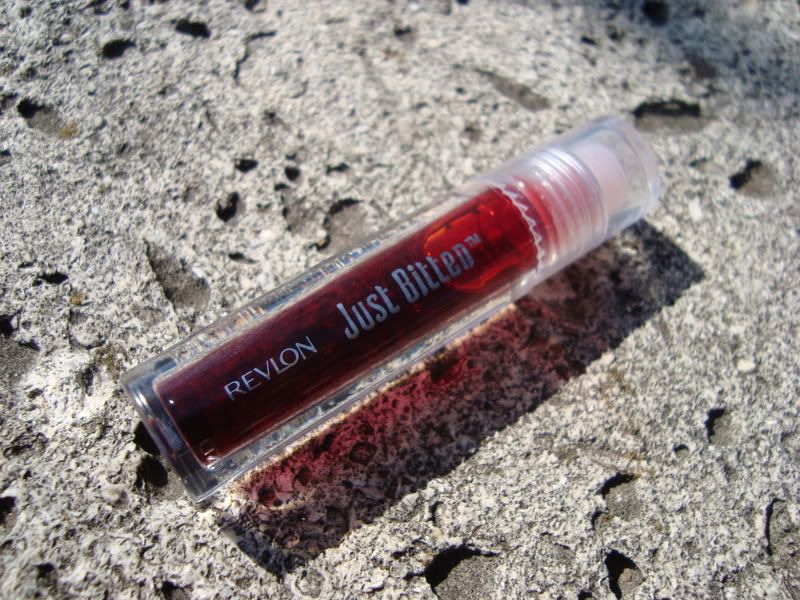 6.Revlon Just Bitten Stain
Pro
-Very light on the lips
-Judging from the ingredient, the colorants are all natural.
-Does indeed stain (That's not too much to say...)
Con
-The roller ball gives a very uneven application
-So I end up using my finger anyway
-After each use, the roller ball/my finger looks like a mess and I hate/but have to clean up after it.
-The cap cracked after fell from a height less than a feet...
-There is actually very little product in the tube, although it's around 8 dollars.
Overall, all of the stain I mentioned are quite different from each other, I like all of them except the Revlon. If you feel like to further cheaping out (cover girl is around 7 dollars), try the Nivea cherry tinted lip balm, it give a slight stained color just like what Benetint offers and you get a bit moisture for only 2 dollars!