I mentioned a while ago that my skin care routine has only two major components: Cleanser and Sun Screen. When I ran out my last bottle of sun lotion at the end of summer I tried quite desperately to find a replacement. Since I normally have no luck with the ones from western brands, which are always too thick, sometime not working or cause break out. (I had a supposedly oil-free for face one from
Aveeno
, after I used it on my arm and touched a
Bourjois
blusher jar, it dissolved the printing on the jar...
eeek
) I decided to go for Japanese drugstore brand...(I know
Shiseido
sunscreen are pretty good, but the price...) I was broke anyway...
I ran through a few of them and here is the search result, I will start with what I like this time.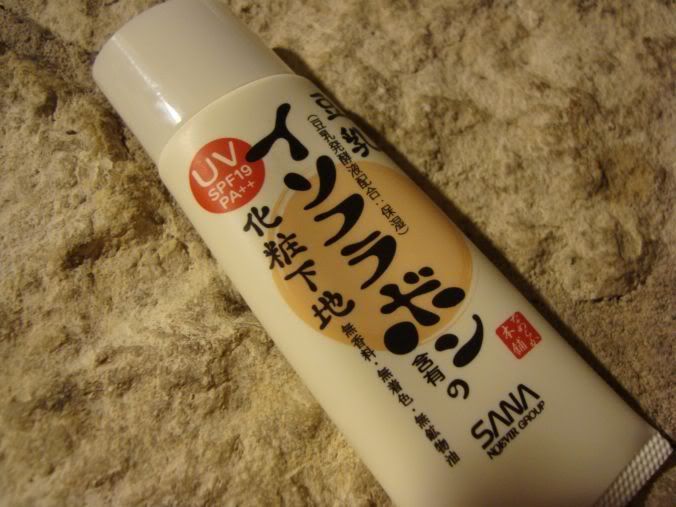 SANA Soy makeup base SPF 19 PA++
I really like this stuff, many (if not most of) Japanese people realized that a foundation with SPF is not
enough
to block the sun (since you
spread
them so thinly) , they all have a base beneath that does all the protection. SANA is that kind of product, I love the fact that it squeezes out like a cream but apply as a gel that it's not thick or greasy at all. The gel-cream itself is white but go one invisibly. It's not chemically scented, so there is only a faint smell of soy , which I like quite a bit.
I usually use it as a sunscreen on its own, when use as a base for
my powder foundation
, it makes it easier to apply and the finish much less
cakey
. I think it does also separate my skin from the actually makeup and whenever I use it, my skin is less
likely
to get
clogged
by the makeup.
My only complain was: why didn't I get it in the first place, instead of wasting money one several bottles that don't quite work...
See below for more
Kanebo

Clear White UV milk SPF 50 PA++
I should know better that whitening stuff don't work, but I couldn't help it, two of my favorite skin care products
Shiseido
Whitia

Sunscreen
(where I can't anywhere but Asia) and
Shiseido
White

Lucent

cleanser
are in the whitening range. Of course, I like them because they work well as just
sunscreen
and cleanser, so maybe this will do the same without the huge cost (and irritation)?
Well, I will say it's OK.
While there are quite a bit in the 50 ml bottle (most Japanese drugstore sunscreen has only 30ml) , the liquid is so watery that I don't think I was getting enough coverage and despite the watery consistency, it actually feels a bit slick on my face once I applied what I think it's enough. I could use it on my arms but since I have the SANA, this would
only
be a backup.
Now here comes the ones that I would
probably
only use on my feet (which get weird tan line quite easily because I like wearing sandals)
OMI

Sunscreen SPF 20 PA+
It's actually getting quite a good review among all the Japanese drugstore brands, there are, I believe three types on Adam Beauty (randomly, for my second purchase, they charged me 2 dollars register mail fee, but the package came without any delivery confirmation) Whitening,
Moisturizing
and the gentle one for kid, which is what I picked.
I assumed that it will work, while it smells a bit like chemical, it isn't unpleasant. The liquid is more dense than the
Kanebo
one, which makes me feel a bit better. However, it actually go on quite pasty and gave me a geisha face. The pasty property didn't help much with the erratic
behaviors
of my skin either, since it emphasise every tiny bit of flaking on my face...It didn't calm anything down, I thought that it stings my face but maybe it was just in my mind but I swear I can smell the
alcohol
, even just a tiny bit.
After many trials and error, I found out that my over
reactive
skin belongs to the "aging" group, that's it, while I am
allegoric
many product, including the one that's supposed to be designed for sensitive skin...when I use moisturizer for mature skin like the
Elizabeth Arden
one, or those
product
that the older
generations
like
Ly-Na pearl paste
, my skin is actually OK with those.
I admitted that I only got it because of the cute little swimming bear and sunny package.
Kose

Tiffa

Pearlish

Sunscreen SPF 50+ PA+++:
The protection of SPF and PA seems so right for me: in many Asian Countries when the SPF is above 50, they can
only
place a plus sign instead of a number so that
people
won't be tricked into buying those just for the number (too high of a number can creates some
safety
issues as well). I am just thinking that with this high of a number, I can use it without reapplying that often.
Wait, do I ever reapply? (Nope...)
I thought that it will give me a matte pearly glow but it turns out to be full of golden shimmer, there is so much shimmer overload that it will put some blush in shame... I can't really find a place to put it beside my feet, where people rarely look at. It also got some crazy staying power as well, I rubbed it on one of my knees in the morning...there are still some left over shimmer after I took shower.
Worst of all, it actually smells like alcohol which means that there are quite a bit of it and it stings...