One thing I've learned a while ago is that never say never...I used to be that kid obsessed with Eminem (that white rapper dude) and now ...I am dreaming to work for Deutsche Grammophon so that I will have a chance to meet my favorite pianist Blechacz...(well, before his exclusive contract ends anyway.) And you see the name "Wieniawski" ?
Anyway, I always thought that my skin is decent enough (or I just never care much enough) that I decided to say no to any type of cover up...since if I am lucky enough to not have any reaction with those, they all ended up looking like mask on my face anyway and I am (or should I say, was) quite content with my face: Yes there is a freckle and acne marks here and there, but at least there isn't annoying pores and any bump...Until late August, when I was trying to switch a cleanser and sunscreen (because of price and availability issues) , which is, in essence, my entire skin care regimen.
I will spare you the detail, but then, I needed cover-up... Physicians Formula Mineral Wear Powder Foundation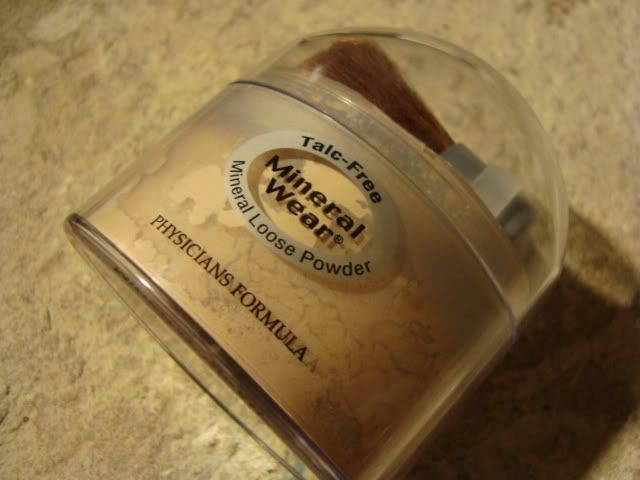 I've known that it's always better to spurge on foundation and I 've stared with the expensive ones (shiseido, Lancome, Anna Sui) but none of them work. So I turned back to something that I actually bought 3 years ago when the mineral craze was at it budding stage, I didn't got a chance to really use it since my mom just took it (She really liked the coverage) ...since I didn't really need it anyway plus it was my mom...so I let the thing go.
By the way , I've never been interest in Bare Escentual...not after that Geisha makeover they did to a friend of mine...
The loose powder was a bit time consuming to use, so I got the compact as well. I think the design of it is quite stupid, you need to apply flip it over, then put to back to re-dip...the brush is totally useless here as well as in the loose powder bottle.
I wish it's just get rid of the lower cavity all together to save some space.
Powder foundation is relatively fine and go on pretty naturally, you can also build up the coverage as you want and I think with little amount this does hide all the red bumps nicely. The formula is quite minimalistic since the 10 ingredients only take a line of space! The powder is also equipped with an SPF 16 of protection with titanium dioxide that also reflects off UVA...I know you can't count on a powder to do the job (I always use a UV base anyway) but that just add on the protection.
The down side is that since it's a dry power, it does exaggerate flaking skin and fine lines if you don't have a proper base for it...but there is also a good solution for that, set it with a bit of water , spray of splash it on your face and the finish will be more natural... I've got the one in creamy natural that is slightly darker than my skin tone, but there were not too many to pick from anyway and for around 10 bucks, I can't really ask for more, can I?