Guess who jumped into the Ly-Na bandwagon?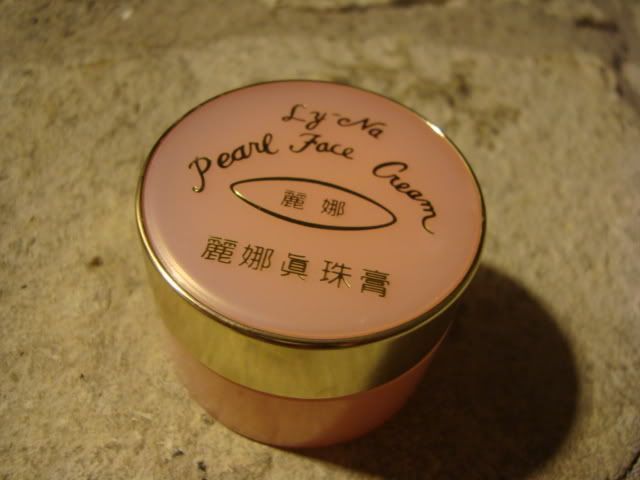 This is actually not my first pearl cream, thing likes this has been in the Chinese Market for ages. And I actually used a pot of pearl cream like this 2 years ago. (The reason? It's so pasty that it masks off my acne marks right away, giving me a little self esteem without clogging anything.)
I decided to grab a jar of this since my skin started acting om my at the end of August when my cleanser and sun screen (pretty much my complete skin care routine) were both running out and I switched to other products (Shiseido white lucent cleanser costs a tad bit too much and the Whitia sun screen is only available in select areas in Asia) , it turns out to a stupid move, many products I've tried gave me horrible reactions and my skin was bumpy, itchy, red and flaky all at once...
At the very same time, the craze for pearl paste hit north american blogshpere and since it didn't give me any rashes I used 2 years ago, maybe I could give it a shot?
Ly-Na pearl paste turns out to be almost identical in texture and scent as the one I've used (I didn't remember the brand , it was around the same price as ly-na 3 bucks or so and has the same annoying powdery smell and it makes my face as pale as Marie Antoinette...there is no way I am using it as a day cream.)
Back to the cream, I has been more than 2 months since I started using it (semi-religiously since people said that it takes time to work the magic) while it does seem to calm down the craziness going on and make my face appear smoother, I realized that it's still a better remedy just leave my skin alone altogether. As for the claimed effects like whitening and get rid of freckles and fine lines...nope, haven't seen any effect, after all, who expects a "gentle" cream to actually alter your skin tone and as for those bloggers who claim that "this cream make me so much lighter!" I frankly cannot tell from their picture...
In short: Is that a miracle cream? Nope. (No face cream would be otherwise Botox, laser, face lifts, wouldn't be so popular) be but feel free to give it a try it's it below 5 bucks, you can at least use it on Halloween if you are dressing like a zombie.