It's always interesting reading a cosmetic brand's history, tracing out the development and summarizing the key ideas of a certain era... Sometime it's a bit funny that you find out all that all the brand did was ditching all the pretty designs and replaced them with less visually pleasing ones.
Anna Sui cosmetics has been well known for their luxurious design, dark mysterious vibe, rose relief and purple packaging. Looking at the development of their lipstick packaging, it seems that, nowadays, they have been taking these key word too literally...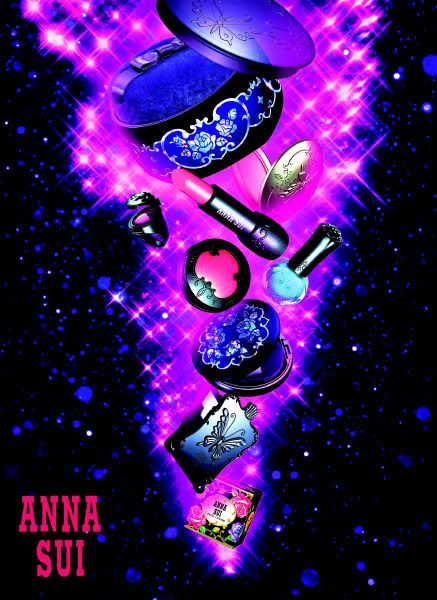 (Some of the beautiful items released by Anna Sui a few years ago: Luxury Loose Power, Lipstick,Ring Rouge, Eye Color Single, Nail Color and Pressed Powder Case...beside the black butterfly mirror. All were phased out...)
When Anna Sui cosmetics first launched ( in 1998) the dark princess captured many girls' heart, including mine (didn't quite get my wallet as I had a pathetic allowance) with their classy rosy, radially symmetric, Victorian design. I never knew that plastic can look this good.
Beside the fact that the pretty packaging are quite tough, they are much tougher than MAC, but then again Anna Sui retailed for $22. (The black tube in my picture
is my face color stick
, my lipstick got robbed by my friend) I love the rose scent it has...The lipstick itself is alright, who cares (at least I don't) about the inside when the tube is so pretty ?
Later, Anna Sui incorporated glitter in their black plastic packaging for their "metallic" line, this got to be one of the earliest "Starry Night" out there! While I am not particularly fond of the glitters in the already-pretty-enough-black tube, it's quite subtle and it does look nice used the
metallic eye color's package
. For some reason, Anna Sui thought the classy packaging wasn't pretty enough and had it's first revamp...
In the beginning of 21st century (way to be vague! Anyway, it's between 2002 to 2004) Anna Sui revamped the lipstick range and call the new range "Rouge", there are three types of Anna Sui rouges:
Rouge S (pictured above)- Sheer shimmery/pearly lip color with a clear purple cap
Rouge G (pictured below)- Very sheer lip color with a soft glossy finish and black cap
Rouge M- Relatively pigmented (Japanese lipsticks are usually quite sheer) with clear red cap
The revamped, more realistic rosebud lipstick tube is nevertheless quite pretty (I am guessing Anna Sui did it to look less Gothic). But I was a bit sad seeing these completely replacing the old range since the dark, mysterious Victorian vibe is nowhere to be found.
Seasonal Limited Edition Dolly Girls (
Kathy has a picture here
) - You call it cute, I call it creepy.
Starting 2008, Anna Sui added one member into the Rouge family: rouge V (for velvet) and since they ran out of "mysterious colors", they simply changed the clear cap of Rouge M to a matte one...It's not that bad actually, the lipstick just got a bit bulkier since you can't see the interior.
With photoshop, the line up still looks quite appealing. (These are the new shades introduced spring 2009).
So when did Anna Sui started on their ugly route? It was fall of 2009, not too long ago, when Anna Sui decided that a few dots and a butterfly is enough to adorn a lip stick that cost twenty something dollars. I guess it's alright if it were a toy for my barbie...
You can see a these three lipsticks
in this blog post
(you
have to
look as they are
really
tiny.) At this time Anna Sui lipstick started to resemble kid's toy...And does it get worse, sure it does! And this time, the packaging is here to stay (for maybe another 4 years?).
A picture from the January 2010 issue of Voce...What is that thing with "Anna Sui" logo?
The whole collection looks even shocking in this blog post.
Apparently, starting January of 2010 , the rose petal tube would be replaced by these four...coffins?
It looks slight more acceptable in pictures
from cosme.net
. While I still consider them to be undeniably ridiculous looking, I kind of want them for the so-fugly-it's-cool factor...(The dilemma for me is to pick one that's is least ugly.)
For me,many Anna Sui products are not as pretty as they used to be (their old powder case, blush, eye shadow are so much prettier!) but I don't feel particularly bad because... (well, I have collected a bunch of the old stuff when they were available) it's nice that they are constantly defining the dark princess in new ways, you got to appreciate their effort! Oh, I wonder how their lipstick would look in 4 years.