It has been a long while since I last got a lip stain (I sort of have most of those
lip or cheek stain out there
anyway...) So here is one more...And this didn't quite make the cut.
Bath and Body Work brand Liplicious Double Kiss is a knock off of Benefit Pocket (which has Benetint and a Clear Gloss) but a friendlier price tag ($12 instead of the $20 from Benefit) But since I consider all of those Bath and Body Work creations very overpriced (the quality are worse than certain drugstore brands) I only snatched it because it was 75% off...In case you can't do the baby math, it's cost a mere 3 bucks.
I already dislike the gloss after ripping off the cute pink pouch, as the packaging of this Liplicious Double kiss looks a bit cheap (Benefit has glass tube if I remember it correctly.) but I guess I will really have to use the product to give a fair review.
The clear side is not that bad, just a normal, medium textured clear gloss that isn't too glassy or sticky. the scent isn't offensive but I don't see the point using a layer of clear gloss becuase they are just sp boring...I mean, green is much more fun version of "clear" in my book.
But a non sticky clear gloss like this makes a good based for lipsticks though, this is worn with
Anna Sui Rouge S
in 570 (Japanese lipsticks are so damn sheer...)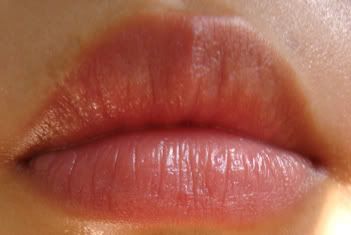 See, why I wouldn't bother with clear gloss, I think my bare lips looks better.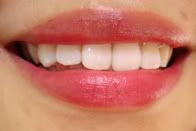 As for the stain, it has a doe foot applicator and a sicling sweet taste (I hate both.) and the color is a very warm tomato red which totally turned neon on me. The tint just looks very unnatural and totally fake. (Unlike Benetint or Stila Cherry Crush) The gel formula doesn't contain enough pigment that I have to use a few layers to get a noticeable color payoff (which turns out ugly) and this doesn't go on evenly so I get bloody patches in certain areas.
Overall, this is an eyesore and I could be much happier with 3 dollar worth of junk food.