Sally Hansen revamped their used-to-be-2-dollars-now-almost-3-bucks Extreme wear nail color with a different lid color. Some standard and boring colors from the line got cut off, some are kept and a couple of nice ones are added.
It's looks pretty cool at first sight actually since most color are on the wacky side.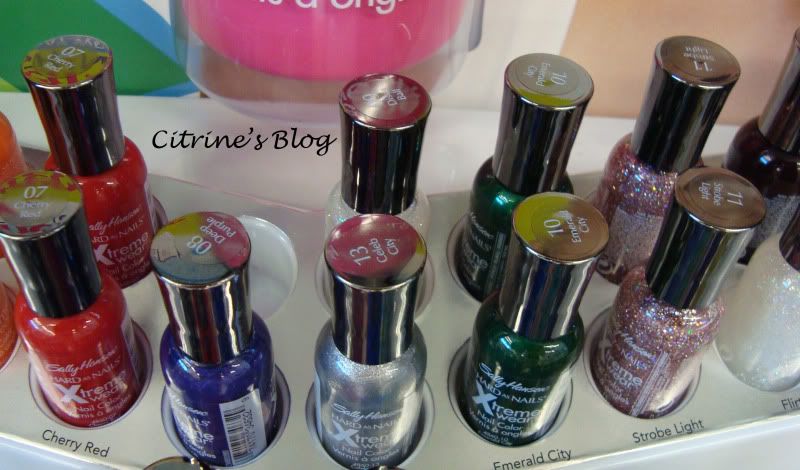 But when you look at them close up, most of the colors are a bit gaudy and uninteresting.
Blah.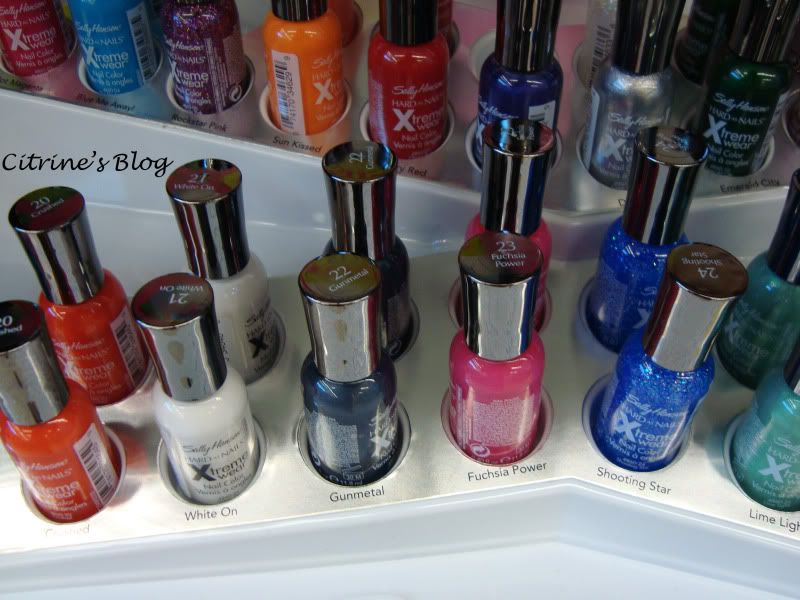 Mostly old fart so far.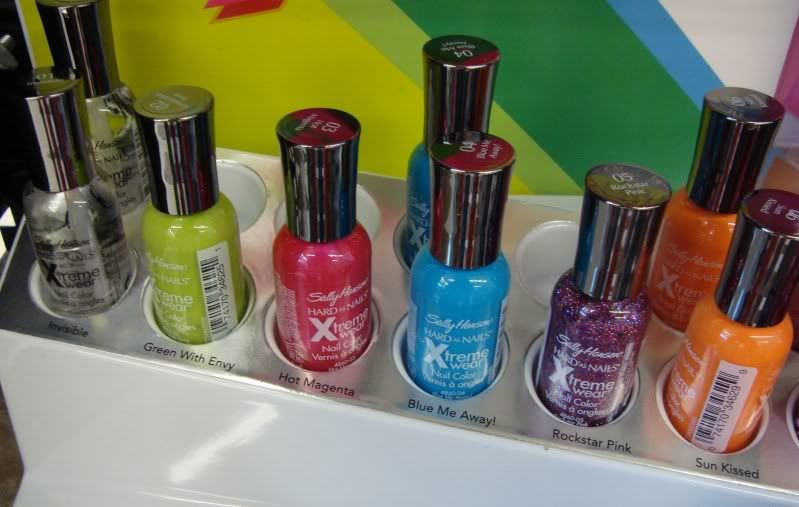 Now here are something interesting, I am liking "Blue Me Away!" , I actually never had a cream turqoise and I know colors like this would look good on my nails (but look horrible on my eyes) ... " Green with Envy" looks alright as well, although it looks a bit slimy.
I don't get why do Sally Hansen need clear coats in all of her sub-lines...
I really like how "Ivy League " looks here, it's a delicious shade of golden green.
Anyway, I have probably gotten 30 bottles of Sally Hansen Polish before realizing that they are all crap, I am not going go get any from this line since I don't like sticker labels and the price. (Wet n Wild is much better when I am paying less.)
Next to something for the face.
Cover Girl Came up with this humongous cream blush. Unless you are professional clown, there is no way you will be able to finish it up before it expires. (I also like to have blusher with cute packaging, so another skipped item for me.)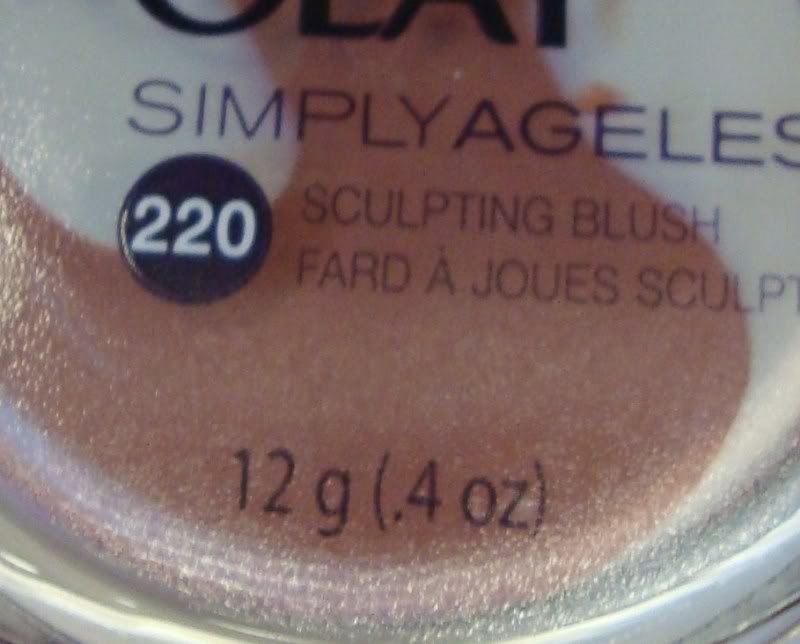 I have a hard time to finish up the 4g Stila Convertible color, and this is 3x that amount.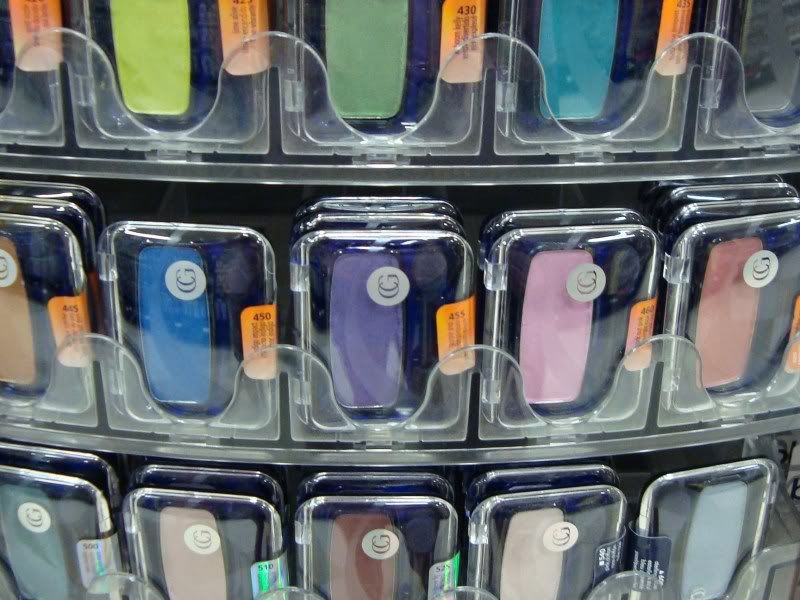 Cover Girl also seems to have a huge collection of bold (and not seemly wearable) colors when it comes to eyeshadow.
Amazemint lip gloss Slaphappy is already gone. I wonder if it were because of
my review
. (Probably not). I like the gloss, but I don't like how it becomes difficult to get out once you finished up 1/4 of the tube.
More user friendly version of
Wet n Wild Mega Eye Trio
, why do they even bother?
These Revlon lip tint have better review than those
Beyond Natural lip gloss
(which I do like) but I like lipsticks with pretty tubes.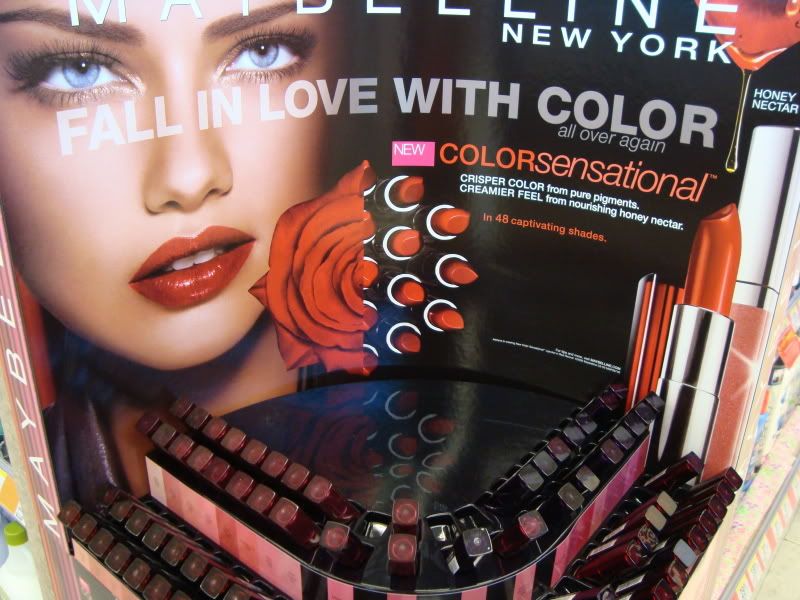 Speaking of pretty tubes, look at these Maybeline (my least favorite brand of all time, I hate yet to get a Maybeline item that I don't hate) Color Sensational Lipstick, displayed at Walgreens, there are also lip gloss at the bottom but they are quite plain looking.
CVS has a different setting. Is it just me or they look like those Lancome Color Fever lipsticks...
Anyway, these are on sale in CVS for 5 dollars a piece (and I have 2 dollars off coupon) but I don't buy eyesore no matter how cheap, so I went home with a tub of Haagen Dazs...Maybe I do have cheap taste buds, they are not really any better than those Blue Bell and it's not even close to those gelato in whole food market.