I finally managed to upload the pictures to complete the Natural Beauty Trilogy. As I've said, Wet n Wild and Sally Hansen are by far my favorite drugstore brands when it comes to cosmetics. While Wet n Wild stands out with its utterly high overall performance/price ratio. ( Or just performance alone! ) Sally Hansen wins my heart (and money) with its sleek packaging, faint scent, smooth texture and delicate color selections.
The Natural Beauty line is what amplified my fondness toward the brand, and the first item I've tried is the color comfort lipstick.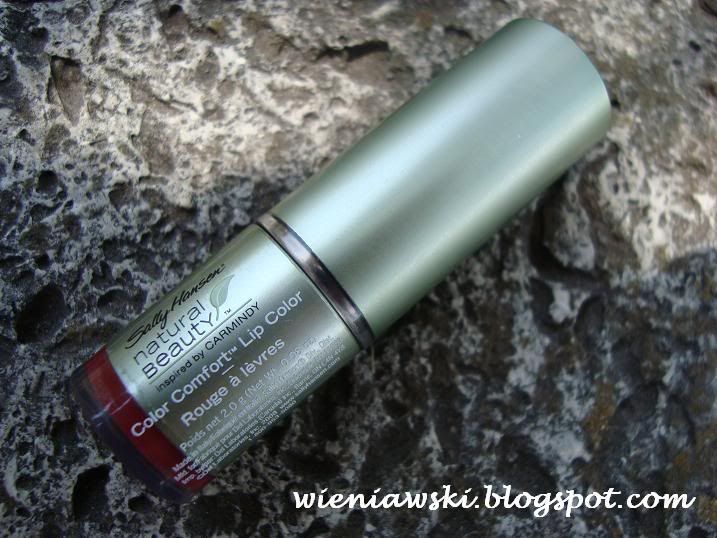 What caught my mind first, was of course the textured metallic green tube. It stood out from the rest in that clearance basket, being 50% off was another reason I got it since I like to try things out when they are cheap, so I will have little regret if they turned out to be horrible.)
The little "Made in Italy" helped too, not that it means the quality of everything made in Italy and sold in US is great (click
here
for an "made in Italy" that I didn't like so much) . It's a nice change from the rest and doesn't Made in [insert European country name here] just sound better?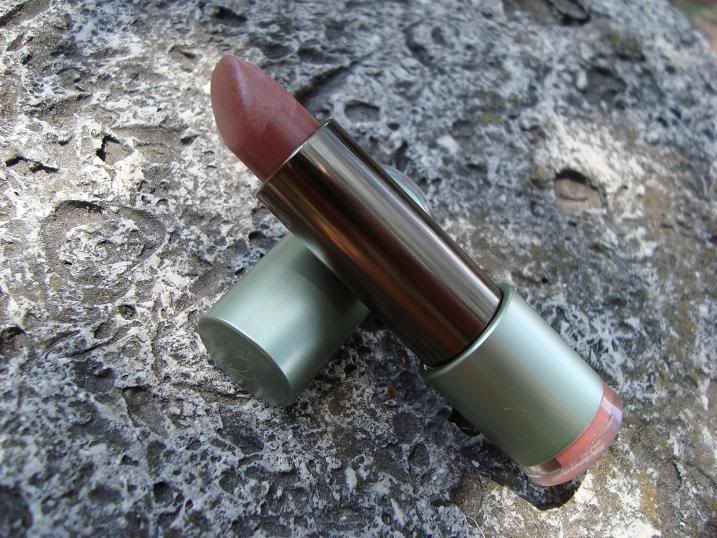 I grabbed the only shade left, nude seashell. (Note: I know that I apply lipstick in a manly way...) A cocoa beige shade with some very fine golden shimmer. Most of the time I like lipstick in the red, wine and plum families, and sometimes I go for beige just so that I can to bounce off the red lips and go ahead playing up my eyes.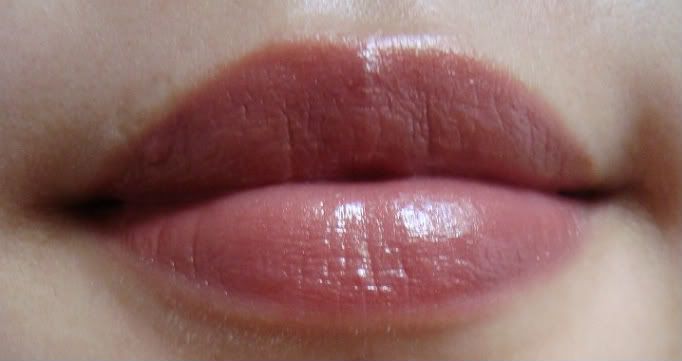 The lip color certainly lives up to its name, beautiful color and comfortable wear are what I got.
The shade is certainly safe to say the least, I also love how well the coverage is and the smooth but not slick finish it gives. The formula is moisturizing enough that it doesn't flake, but not so smooth that it slips right off if you've worn some balm underneath. (Ahem, M.A.C lustre)
In the swatch picture, I just applied it directly to lips, no lip balm or lip brush. (I am getting increasingly lazy these days.) You can see how nice the texture is and how evenly it spread through which beats Anna Sui and MAC in my opinion.
How can I got only one if I like it so much? Of course, I waited a bit for a sale, which is buy one get another 50% off (CVS also sent me a 3 dollars voucher in e-mail that week, awesome huh?) and got myself another tube as well as the
cream blush from the Natural Beauty line
.
This shade is called garnet. A beautiful wine red without shimmer. This time I took some precaution with out I dab the color on...to prevent ugly lipstick picture seen above.
A little piece of fact: Red was my favorite color from kindergarten to second grade, not only that I actually remember, but also I found that I used it a lot in my drawing at that time frame.
Beside that, I just know the shade will work for me remembering as a little kid, I was playing with my mom's red lipstick and I felt beautiful. (Not so beautiful when I broke my mom's Guerlain in and she went ballistic all over me, oh yeah, it was in a plummy red shade.)
A little bit uneven application but the texture is still very pretty.(Some of the lipstick got on my teeth, ahem...) Most of the time I don't like doing that "sexy Hollywood open mouth look" lip swatch because I will probably look like a retard, not to mention I might drool...This time I decided to show some teeth since, a big fat mouth in red isn't that pretty on a blog anyway.
So, my super short conclusion: Get it! I am sure you will the shade you like from the vast selection.