It has been four years since I was in a "lash phase". If you wonder why it stopped. I stepped/sat on and crushed not one, but three of the curlers I owned (one from Shu Uemura another two from Shiseido). To make things easier, I suppose I could just go back to the
Maquillage Edge Free
Curler (or the black Shiseido at Sephora, they look like the same thing). But that would take all the fun out of trying/bitching, not to mention it will make me uncool buying something everybody loves. Grade school logic never fails.
Today, I will show you a run down of two silver drugstore curlers (I have more colorful ones to show later) one by elf and another by Japanese brand Koji (the mother company of Dollywink, Candy Doll and more).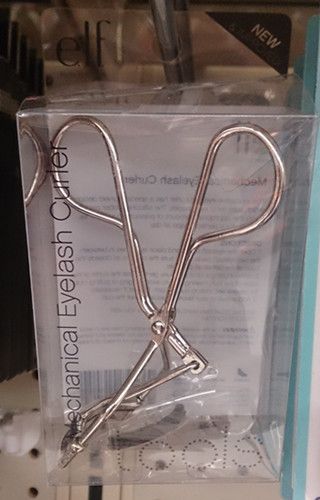 The elf is an "improved" version of their spring-powered
Professional Mechanical Curler
, which has an action that I am quite fond of (except for the fact that the pad came with it cut my lashes off). The newer version looks more generic and retails for a dollar.
Koji No.73 is a wide sized (the number makes no sense to me) curler. It can be found on various e-tailers that sells Japanese cosmetics (I only shop from Adambeauty and alphabeautyuk on eBay) and usually retails for around 6 dollars.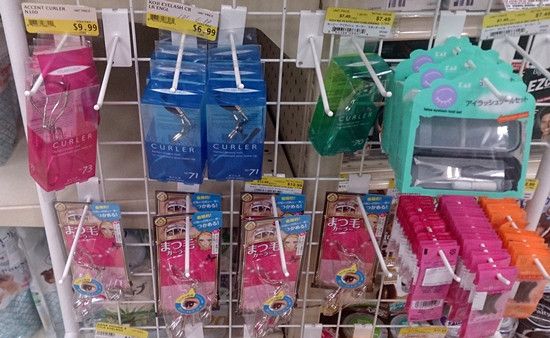 It can also be found in Japanese Supermarket Mitsuwa (this particular branch in NJ sells overprized everything though, they charge like 1.50 for half a medium-sized cabbage. Who sells half a cabbage anyway?). Anyway, once my rubber pad wear off (I left the box with the replacement pad in Texas) I will buy the pink one from Kiss Me!
While we are at it (I realize this is a sudden change of topic). Here are some over-priced Kiss Me mascara at Mitsuwa. I bought a twin pack from Adambeauty, which includes a mascara and a remover for 15 bucks. It's like saving 22 bucks plus tax!
Through out my years of "research" (both money and efforts were spends in the self-funded projects, paper/blog posts were published, heartbreaks were incurred...When I sat on my research subjects). I found that there are several numbers that will directly effect how a curler perform:
1. Curvature of the frame (I like to call it metal blade of a guillotine), looking from above. This is the part that should fit your eyeballs, anything flat would not reach the root of lashes, anything too curved would pinch the sides. Admittedly, the flatter frame of elf fits my eyes much better and the Koji No.73 pinches on the side.
2. Archness (still a curve, just giving a different name to clarify) of the frame when you look at from the front or back. When the archness doesn't match your eyes, if wouldn't pinch, it just means that the two ends of lashes wouldn't be curved and lifted right at the roots. Koji seems less arched but I don't think it makes that big of a difference.
3. Distance from hinge to frame and from the handle. This affects how big of a swing each curling motions makes. Too short of a distance just makes each pinch inadequate while too long just make you feel like you are using a tong. Koji has a slightly longer (but they do make each model in long and short version) than elf but at the same time, the joint and much more steady and secure (so it maintain the position by itself a little, without you holding it attentively) so it doesn't flop around as much.
Rubber pad of the two (elf is standard mushroom cross sectioned while Koji is flatter with a groove). The softer Koji pad might wear out a little more quickly but it just seems much more effective at giving an actual curl (it's more like a stubborn kink at the root but I don't care) and holding it up.
So even though the elf is much more affordable and comfortable, I abandoned it and only brought the Koji (and Majolica) curlers with me. After all, it's very solidly constructed and actually get the job done. This is the only curler that give me anything remotely close to the sunflower effect.
Reuse of an old picture (from Maybelline the Rocket Mascara). This is considered quite impressive for a stubby-lashed Asian. The verdict for the elf is "Alright for the price, but the old version is much better." and the Koji would be "Love the curl and hold, I wish it fits my eyeballs a little better". So, right now I am still actively looking for curlers that delivers the same curl minus the pinch.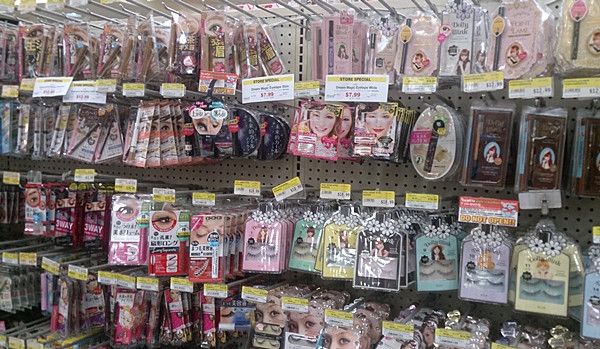 More Japanese makup at Mitsuwa. I noticed that there are way too much lash/eye makeup and not that much for cheek/lips, which is why I didn't get anything while I was there (Grocery wise, I did get some matcha powder, matcha pocky and tofu that were on sale).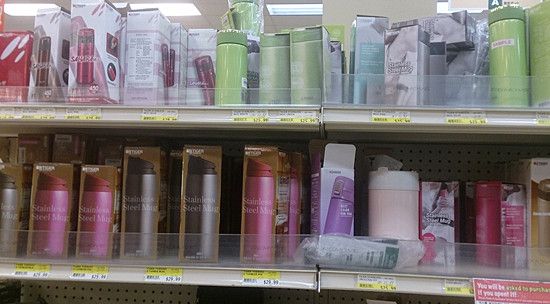 Look! Random over-priced cute thermal mug! (30 dollars a piece and China made...I got a cuter one from TJ Maxx for 7 bucks.)