Rimmel Base Coat Top Coat Pro was from a twin set I purchased a few weeks ago (the price was the same for the set and a single polish so I was like why not...), I don't normally wear base (too lazy) or top coat (my attention span is too short for long-wearing polish anyway) coat but it's refreshing to test one out after all these years...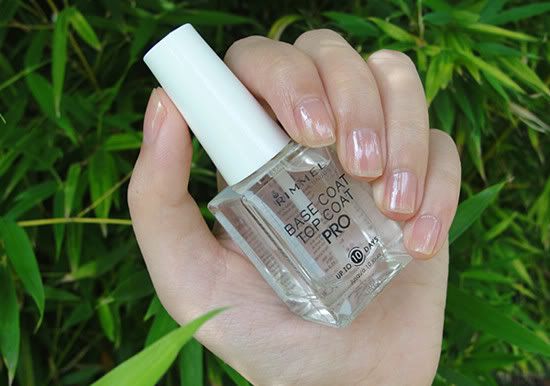 Like their lasting finish nail polish, the Base & Top Coat pro comes with a cubicle bottle and flat brush (which is a little thicker than what I prefer). When used as base coat, it's neither thin or too gooey but it did manage to gather some bubble with the (already) hot weather. While it did smooth out the vertical nail ridges, I found that the slippery surface actually makes polishes to pool around and streak.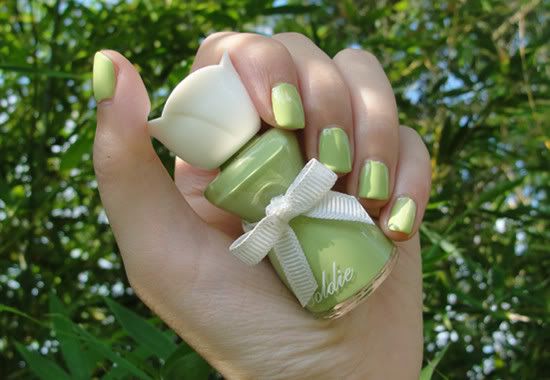 When used as a top coat (with a lime green Goldie that stains and gets a little streaky) it did smooth out the streaks but it also made it impossibly wet and hard to dry (this manicure never did but when I give it more than an hour on another polish, it did seem to prevent tip wear from appearing too soon).
Overall:
An alright clear base/top coat for the price (the normal retail is around 4 dollars, I got a twin set when it was 50% off...of course I used a coupon as well), it did prevent staining (although some of the green did get caught on the tips), smooth out the surface and prolong wear time but the formula is not thin enough so the manicure ended up looking quite bulky. I much prefer their discontinued
Stronger Base Coat and Strengthener
.