I know the title might sound like I am about to start another PMS post,complaining about things in general/nothing in particular (speaking of which, I haven't done those posts in quite an while, I kind of miss those hate-fan comments...) but no, I think those pieces from Ralph Lauren 2011 fall collection are pretty nice.
(Models are Olga Sherer and Julia Saner) The makeup, done by Estee Lauder's Tom Pecheux went pretty well with the outfits and accessories as well...
Earrings with white and black Swarovski crystals (which is a fancy name for a fancy glass), intricately carved cinnabar bead, jade plaque (it doesn't look untreated to me but I guess it doesn't matter since it's not fine jewelry anyway) and onyx drop (or is it just plastic?).
A tassel with dyed jadeite (as it that's what it looks like) purse button and tassel.
Bruna Tenorio with velvet pants (very Chinese indeed, almost every middle age Chinese woman, including my mom has a pair like this) and lacquered bracelets. Style dot com called it "coral" but these red "things" are actually carved cinnabar.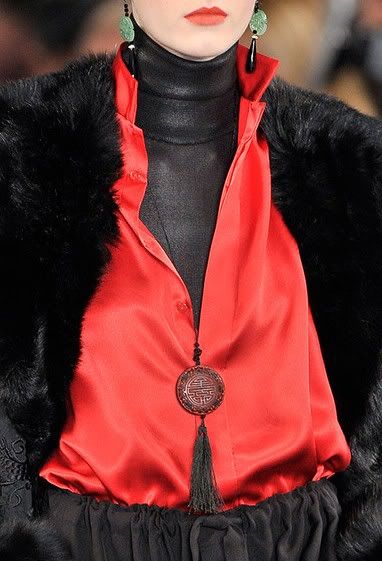 Daria Strokous with red lacquer necklace, jade earring, fur coat with embroidery and the drawstring pants.
The inspiration for the collection as well as the makeup, according to many websites like Teen Vogue and Style,was Shanghai back in the 1920s but I personally think the whole collection, with mainly Western girls with oriental accessories, actually seems like an inverse of 1920s Shanghai. (FYI, Shanghai was occupied by several foreign countries at the time so high society woman had rather westernized coiffure/makeup/accessories to match their long Chinese dress. You know,people tend to adopt the smaller parts first.)
If an inverse 1920s Shanghai is hard to visualize, just take a look at the French black comedy made in the 1970s called Les Chinois a Paris(in which Paris was occupied by the communist Chinese)here is a funny clip taken from the movie :
Spoof ballet from merging Chinese propaganda movie Red Detachment of Woman and French Opera Carmen.
Anyway, back to the topic. Out of all the "orientalism" collections, including the (colored, therefore practically worthless in Chinese standard)jade jewelry from Chanel fall 2010, Chanel Paris Shanghai(the one where they threw in
Japanese Kokeishi doll and American Chinese restaurant take-out box
and called it "Shanghai in the 1930s", the Louis Vuitton Fall 2011(cheongsams with slits up to the undies), Ralph Lauren FW2011 is by far my favorite take. Now I just wonder how long the trend is going to last...
PS. All pictures are from
Style.com
.