Can you say no to 2-dollar lipstick? Nope. Can you say no to the perfect matte red lipstick? Nope, again.
Max Factor Vivid Impact lipsticks could seriously be my favorite line of lipstick (I still like my pretty tubes from Anna Sui though)as I have bought 3 more colors from the same line after my initial purchase.
These lipsticks are pigmented, they comes in none-grandma shades (nothing against grandma...it's just not the look I am going for), tough and cute tubes and they normally retails for 8 dollars a piece while the quality is definitely better than MAC (IMO)... Is there a reason not to love them?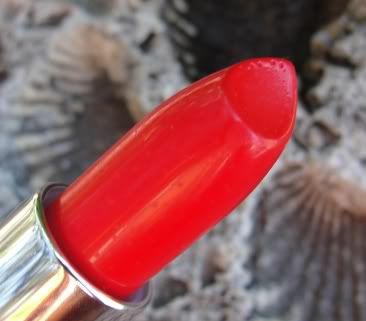 Ms Right Now looks like the red I have been looking for: It's a matte, bold, bright-but-not-neon, neutral red that doesn't turn cherry on me (I am fxxxing tired of sheer red that turned cherry, fuchsia or wine on me...)
The texture is smooth and easy to wear but doesn't feel wet, squishy or too slick that it travels everywhere. I would say this lipstick, if it wasn't pulled out in US, would seriously give the new Lancome matte line (not going to try that, the packaging is too ugly for something that costs over 20 bucks) a run for their money.
Anyway, it's the perfect red to brighten up the face even when I am not wearing anything else on my face (I rarely do). If I have a pretty flowing vintage dress (I saw one online but I am so not going to pay 50 bucks on a dress to match this 2-dollar lipstick....)I would totally have a look (more like outfit?) of the day with this...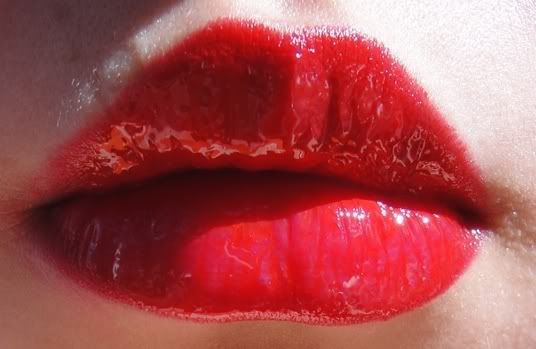 Layered the red with a clear gloss (just so that it's easier to remove afterward), adding a shiny finish on an already bold-and-pretty red is unnecessary and overkill. Anyway, Max Factor lipsticks are not made for layering from what I have seen, since the pigments ended up dissolving and form that yellow-red and blue red patches.
Overall:
Holy Grail red (the pictures really didn't do it justice)...My only complain would be this lipstick stains like mad and it makes me look like I have just eaten some animal alive when I wiped it off. The stain also adheres to some patch of my skin (what you see in my
Coral lip combo
post, in the second to the last picture) so well that it lasted 72 hours with 3 showers...