As expected, I went to check out MAC Give me Liberty of London collection at my Saks. I have no idea but the sales associates there was really nice every time I went...You would think MAC X Saks = Snobby squared
plus scary makeup...
Anyway, when I first went there, I couldn't find the MAC x Liberty of London display on the counter, which at the time was full of Spring Color Forecast, that ice cream/macaron collection (evidently the name was not as catchy as the food)tabloid beauty etc.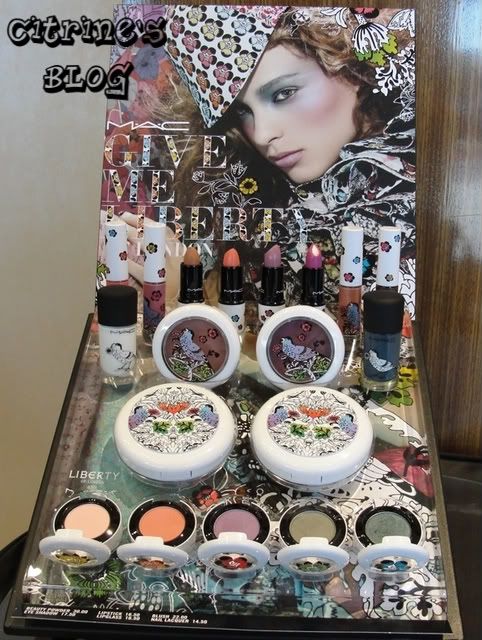 It turns out that it's placed on a desk right by the pillar (You know MAC releases too many limited edition when a Saks counter runs out space for them...)and while my main objective of going there was to convince myself I don't need those cheap and plastic-ky lipsticks...I still got suckered it and went "Day-yum, I want all of them..."
The lipstick/lip glass are very nicely made as the (lipstick)tube is even tougher than their standard edition ones and the floral print doesn't seem like it will get rubbed off easily. As of the products themselves, the whole collection seems a bit dull that beside the two coral lipstick/gloss : Ever Hip and Perennial High Style, everything else was very muted. (The sun was gone so my pictures turned purple again...)
Petal & Peacocks
- A magenta pink that would look good on girls with deeper/warmer skintone (as it's a bit harsh against mine), the color itself is not all that special, as I have a 2-dollar max factor that looks just like this. If you don't have a similar shade and want a magenta that glides nicely, this would be a nice choice.
Ever Hip
- A sheer coral (I am not sure if I want to call this coral, since coral usually has more pink tinge) that feels like a soft balm and the only sunny color from the collection. This is the only cremesheen in the collection while the other three lipstick are amplified.
Peach shock
Peachstock
- Warm peachy nude. Very creamy, very poopy(some orange/peachy shades are really good at making my skin extra purple...)might look good on a California beach blonde babe...
Blooming Lovely
- Muted lilac mauve, is it just me or that thing looks like bruise? It's quite creamy and pigmented and glides nicely (all MAC amplified cream do, right?) and I would say it could make a perfect nude lip for PPP (people from the purple planet) like me but with the touch of gray...I would get this if it weren't so pigmented.
Not related to this collection: Some bright coral lipsticks comparison I did when I was checking out. (MAC impassioned on the left).

Enough with the lipsticks, the glosses from the collection was alright, nothing really stands out (beside the packaging) and the blusher/beauty powder don't look very unique, the one that looks unique would be the unwearable purple (How in the world are you supposed to pull that muddy purple off...on your face!?).
The two nail polish
"Wite Out
" and
"Chicken Ticka Teal"
(Rowena at Cosmetics Candy came up with the name, not for this collection though...do you know sometime I see mean/funny blog comments that I wish I come up with them myself...) looks pretty boring in real life, I would much prefer buying those (I only want one) nail polish from
Orly Sweet collection
which by the way is out in ULTA already and currently on sale at 5 bucks (instead of 7) not to mention they added a lot of stuff in thier clearance basket (get your 3.5dollar off coupon and head there if you have time).
Overall
- A dull collection with very pretty packaging (usually that's all I need). I personally like the pattern on the lipstick and lip glass the best since there are more intricate flowers and the choked bird doesn't look that obnoxious when it's small.
P.S. I didn't even bother swatching those eyeshadow...
P.P.S. There is no makeup bag, pouch or the 95-dollar scarf in my counter. (Is it just me or it seems really diffcult to coordinate outfit with that thing?)