I never plan to get this Milani lip color as I don't like the flimsy packaging but I was picking some filler items (when I bought those Revlon lipstick) so that I can take advantage of the 5-dollars off 15 dollars purchase coupon. It turns out that the Revlon goodies come as nasty surprise, the one that I didn't mean to buy is actually my favorite of the bunch. (It's not saying much though, since you all know I hate those Revlon lipstick.)
Milani Styli Stick Moisturizing Color Shine was released as a part of
fall 2009 collection
(and it doesn't seem to sell too well since they are still there while those nail polish are long gone.) The Styli-Sticks are described as a lip conditioning lipsticks with Shea butter and avocado oil. I didn't believe in much of it's anti aging claims but I do like those golden filigree design on the lid, which reminds me those pattern on sari.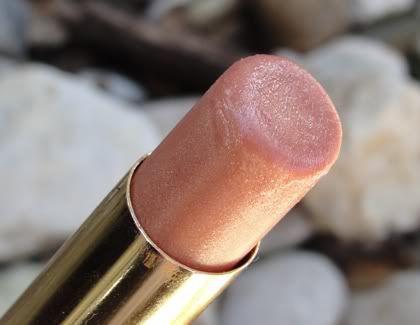 I pick up a shimmery nude color that's called C'est Chic, which is a shimmery nude with a peachy tinge (I still wonder how come I end up with this as I usually hate peachy, nude, shimmery drugstore lipstick and the word "Chic" .) the texture of the lipstick is very soft and easy to glide. It smells like some plastic, watermelon Bonnie Bell balm or
Maybelline lip gloss
but the scent fades pretty quickly so it never got on my nerve.
On the lips, the Milani lip color is quite moisturizing (My lips was harassed by the two Color Burst lipsticks right before swatching this) and it imparts a very soft shine, the shimmers inside the lip color (or should I call it lip balm?) are very fine in texture so it doesn't look frosty at all no matter how much I layer it. The golden color is rather sheer and showed up as a peachy sheen, the sheerness and golden color reminds me of
that golden Stila Lip Color
but Milani feels a lot more comfortable and is a lot prettier than Stila.
Overall, I like this Milani lipstick/ balm for its wearable color, abundant but not obnoxious shimmers and the cute tube design. It kind of means a lot to me that it performs well on a bad canvas ( since my lips were in a beaten up condition after swatching and wiping off those thick and pigmented Revlon lipsticks.) I think I need more (if they are cheap enough for me) !