Anna Sui cosmetics is always known for the glossy black packaging but once a while, the brand would release products in a different color theme: In 2002, their entire base makeup release was in golden champagne and later on, there are several other limited editions featuring white (either with silver shimmer or a lilac sheen), royal purple as well as lilac. The other colors keep the whole line up looking fresh and are quite collectible.
The key ring sized Mini Rouge W (a white version of their normal Mini Rouge in black) was released in Japan as a part of summer collection in 2008 (they are numbered as 01, 02, 03) while in US it seems that these white one come in a duo set (along with a mini rouge in black) and is number in the standard Anna Sui way. (Each and every shade is coded in 3-digit number, if it starts with 0, the color would be either be shimmer/glittery, white or black. 1-Blue, 2-purple, 3-pink, 4-red, 5-brown, 6-orange, 7-beige, 8-yellow, 9-green). This particular mini rouge I have is in 602, a shimmering orange/coral.
While the mirrored compact of the Mini Rouge W looks more plastic-ky and cheaper compared to the the glossy black one, there is a very subtle but noticeable pinkish lilac sheen allover the compact (like most of the
Anna Sui products with white packaging
), it's so random that the sheen can only be picked up with a relatively sucky camera (I used the my old HP for that post) or with a dim lighting(which would yield blurry picture for a standard point and shoot).
The lip color itself has a solid texture that melts instantly with a touch of fingertip (or poke with a brush), in many way, this reminds me of my beloved MAC tinted lip conditioner, beside the fact that these comes with shimmer (The shimmers are extremely fine and multidimensional so they only give a subtle depth and a pearly shine to the finish, nothing glittery or frosty) and a rosy scent. For me it seems that these rosy scent are not as strong as the ones from Anna Sui lip gloss or rouge but I could be mistaken since I do have a bunch of Anna Sui items and even my latest juicy tube is scented like roses.
A light swipe of Anna Sui mini rouge on hand (I used Anna Sui lip brush to dig the product out so here is the leftover), you can see that the shimmer are very fine (they are difficult to capture but look quite gorgeous with naked eye under sun) and the color is sheer imparts a slightly moisturized and glossy shine. I would say that the texture is very typical of Japanese lipstick so you might find the pigmentation too poor if you are used to western brands.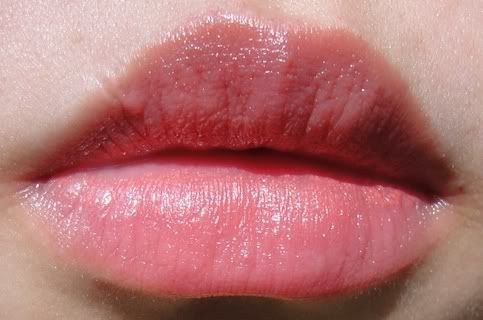 On the lips, Mini Rouge applies like a balm (again, similar to MAC tinted lip conditioner) and feels like second skin. While there is enough pigment on the lipstick (for me at least), the bright coral still lets my own lip color show through and looks very natural and wearable. The shimmers (they are visible but not in-your-face) are so fine that they simply add on to the soft shine.
A close up so you can see the part where my natural lip color is showing. The rouge is slightly more to the warm side for a coral but the sheer nature give it more room to work with your own, in my case, it gets slightly pinker once it on me.
Overall, I do like how Anna Sui mini rouge works and it's a nice piece to wear and collect. My several complains are:
1. The gloss is quite sheer so you need a little chunk for each application.
2. While the sheerness isn't a problem, there is a little over 1g of products for each compact.
3. If you have big mouth and/or like to load on lip gloss you will run out in no time.
4.Unless you find some limited edition gift set, each piece is usually retail for 20 bucks.
5.That's a lot consider MAC tinted lip condition cost $14 while it has 10x the products.
6.You have to bring your own lip brush to dig the products (using finger is gross and wouldn't spread the product as nicely.)
Bottom line
: If you are Anna Sui fan, I would say go for it(the black one looks much prettier while the white one is more of a novelty for me). Otherwise, MAC tinted lip conditioner is the way to go.