You all know that I care about natural/organic makeup
as much as I care about Twilight
. Since I was (short attention span, yeah I know) in a mascara kick and I did like some of the mascara made by Almay,I was quite happy to get a tube of their natural mascara from a friend.
Almay claim that pure blends mascara is 97.5% natural. Since global warming isn't really the first thing pops out of my mind when I take out a tube of mascara, this label doesn't mean much to me (beside the fact that it provide a reason why the tube doesn't look very good). Big, pretty, shiny black tube is usually my preference for mascara packaging so it it weren't given to me, I would probably never buy this myself.
The wand has that plastic (not those typical flexible fiber) bristles and it can potential be a poking hazard. The mascara itself, which smells different from those typical mascara (can't say it's better or worse) is rather pasty/dry so there isn't that much issue about it going allover the place. Due to the thick consistency of the mascara, it's doesn't cling to lashes very well so there is not much of a dramatic effect to speak of, at the same time, since there is no gooey paste hanging on lashes, it gives a very clean effect.
I am not sure how much do I like a clean/brown lashes on me (but I still think the effect is more apparent than
Nars Black Orchid
) but I think this would make a nice brow groomer for people who have relatively thick and flyway brows: Not only it sets the brows without giving off a deeper color or a shiny/waxy finish. It's also tones down the deep color a bit and make the bush less harsh.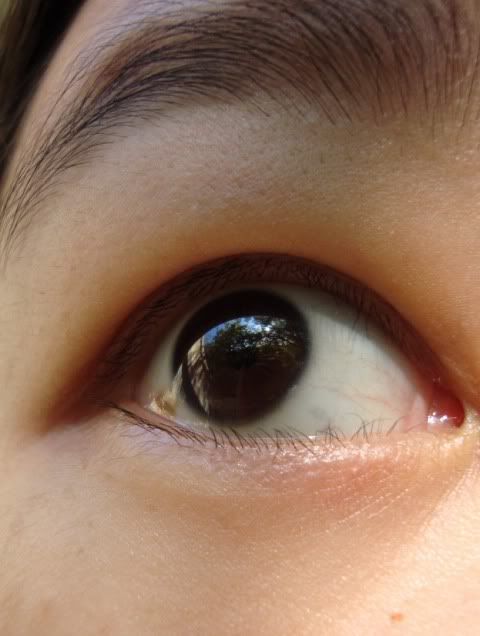 Some of you might what to see how my lash growth booster worked (chopping them off to stimulate growth) here is a little update on that. A little background information: Once a year (during spring) I get bored and chop of my lashes to a length so short that they poke the inner lining of my eyes. I was convincing that they would grow back longer and healthier in a month or two.
Conclusion of this trial is that( I don't have an "After" picture):
1. Don't try it on fall/winter as your hair growth is much slower.
2.It probably wouldn't give a dramatic effect.
3.It works better for the minors (Definitely.)
4.You have nothing to lose (beside looking ridiculous for 1-2 months)