I have swatched these Too Faced Glitter liner a while ago
over here,
in my post, I complained about how sheer these liner are for the price tag and said I would never want to buy them...But if there is a nice set on sale, that would be a totally different story...For one thing, you don't need that much glitter to get a nice effect anyway another thing is that: If 17.5 dollars for a tube of eyeliner is expensive, what about 8...For four of them...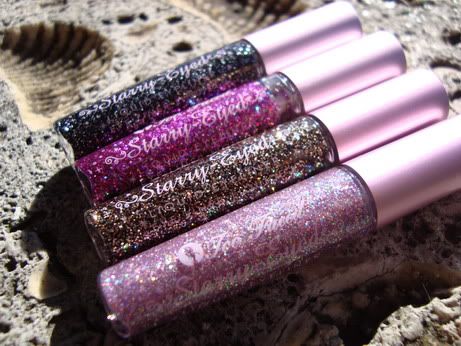 Too Faced official site had a set of four mini (2.5ml instead of 4ml) eyeliner in Ooh and Ahh, Super Freak, Stalkerazzi and Mad, Mad love and the set was on sale for 10 bucks (before the 20% off coupon code!) I seriously can't find a reason not to try them even I didn't think I love them that much.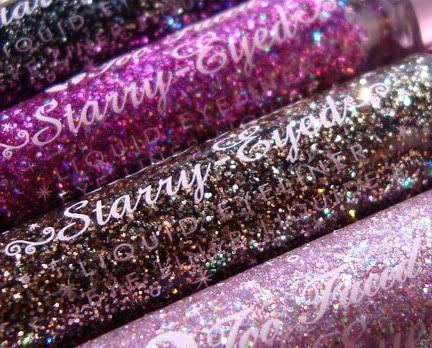 It really takes a sunny day to show how starry these Too Faced glitter liner are: Each shade has glitter in different color and they reflect light in a slightly different angle. It would be even better and more Starry-Night if it has different kinds/size of glitter, it's not Lunasol so I don't expect too much from it anyway.
These glittery eyeliner would give an eye-opening effect if used alone (The light pink one
Mad, Mad Love
looks best applied that way) and I like to layer them on top of eyeliner to make the look more interesting. I wish the base is not as watery though, since the liner does smudge off my powder/cake eyeliner if I use it on top (maybe an water proof liquid liner should work better.) Another bad thing about this liner is the fact that they don't set easily and the glitter doesn't dry fast and they have a tendency to travel everywhere: including into my eyes.
I didn't realize the pointlessness of this swatch until I have uploaded it(other pictures make my skin look gray) . It's Stalkerazzi (gold and black glitter) on top of
Nars Pandora
as eyeliner. My upper lid ate away all the color (from the light pink and fuchsia ones)as usual...Well, at least you get to see how well Pandora works as an eyeliner, even when it's smudged a bit.
Anyway, do you like glitter? If you do, how do you wear it and if you don't...Sorry, there would be more glitter coming up in this blog...