Although Nars has a ton of eyeshadow available, it was quite easy to pick out a duo for my first out-of-own-pocket one: Pandora is the best rated Nars Duo on Makeup Alley, scoring a 4.9/5 on overall performance and more than 90% of the people would re-purchase.
Out of the many reviews, many people mentioned that the matte black from Pandora is quite saturated that it beats the heck out of most gel liners. I am not very good at applying black gel-liner as I am not a big fan of pulling and poking my eyes, not to mention all of them either doesn't show when I open my eyes or just looks harsh on me.
Luckily, I got a hang of apply eyeshadow as liner with flat"push" liner brushes.
So I pretty much got Pandora because I don't have a black liner that I am happy with yet. Beside the matte black, the shimmering white side seems quite practical as well, as I can layer it with other shadow with dull finish.
The white side of Pandora duo is very firmly pressed so I only get a very thin layer of color each time, the color itself is not off white, but rather a very pretty layer of silvery white sheen with delicate shimmer. Since the formula isn't dusty or chalky and the color is sheer, the off white is actually very wearable and it looks good as a subtle highlighter as well as a "top coat" for matte shades.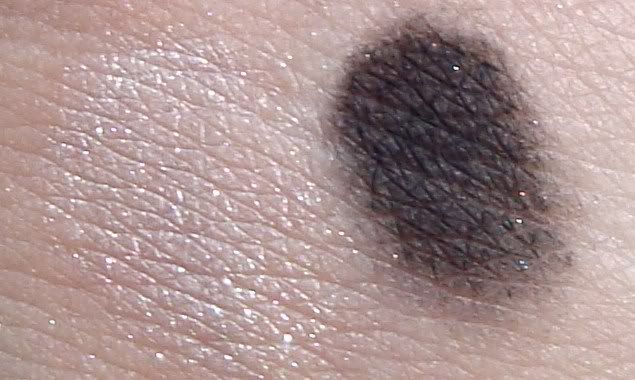 The black (what I bought it for) is not completely matte as you can see a very tiny bit of shimmer here and there, but once it's on the eyes, all you get would be carbon black. The color is quite intense but everything I use my finger to get the color, most of the rich color stays on my finger instead and never transfer fully onto the lids. None of my brush seems to be able to pick up the color and dispense it well. (I guess Stila brushes work best with their own shadow.) Anyway, it's not like I know how to do smokey eyes anyway.
The black on Pandora shows up much more nicely when I use a synthetic flat liner brush with it as a liner, the black is quite intense when it wasn't even dampened and I do get a clean crisp black line, so I am quite happy with it as a eyeliner. (It does smudge a bit but everything does anyway, I do have a primer so it's fine.) It's a nice basic to have and I haven't gotten anything like this, I wouldn't say this would be the best black shadow out there as I haven't even tried those other famous ones like MAC carbon or Stila Ebony...Anyway, makeup alley people mentioned that this is more intense than those two though.
By the way,
Is it just me or Pandora should be named Panda instead?