Milani Black Magic eyeliners have been around for quite a while but I never picked one up as the duo ended pencil is quite thick/chunky and I don't want to buy a sharpener just for it when I am not sure if I like the product.
The eyeliner pencil retails for around 5 dollars and rarely go on sale in the drugstore (but I dug this pencil out of the clearance basket in Target so I was able to get this liner for around a dollar.)
There is absolutely no way I am spending 5 dollars on drugstore pencil liners, especially I hate every single Milani face makeup items I have tried.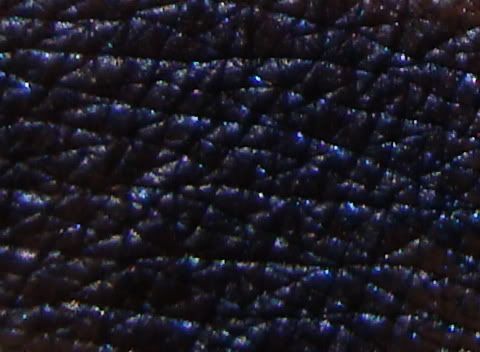 The eyeliner side
Dark Magic
is a midnight blue/or black with an overall sapphire sheen that could almost be mistaken for black (this picture is taken right under sun so the blue shows better), I like the fact that it's very pigmented without being overly creamy that it smears within 10 minutes. (It smudges anyway, since all pencil liners do...on me.)
The other side is called
Sapphire Glimmer
(I think?) . This side is pretty much a pure glitter housed in a transparent wax base/medium. I do like this particular blue shade of the glitter as it doesn't look cheap.
(You know sometime you get some gaudy glitter that look like they are from Dollar Store?)
However, since it's a wax based glitter pencil and the glitter are quite tiny, you simple won't get a decent amount of glitter when used as eyeliner (you will get 3 pieces of this tiny glitter per line).
I guess we can try using it in a bigger area
: as an eyeshadow?
(tell you the truth, Beside the 60-dollar-a-piece Lunasol palette, I found glitter in most eyeshadow looks very cheap). Well, it doesn't really work out as eyeshadow either (unless you are wearing this allover the lid by itself) since it would be difficult to layer a wax based pencil on top of eyeshadow. Imagine glide a chapstick over your fresh eye makeup...it will just wipe off the powder or wax instead of giving it a "sheen".

Since wax based doesn't work with on top of powder...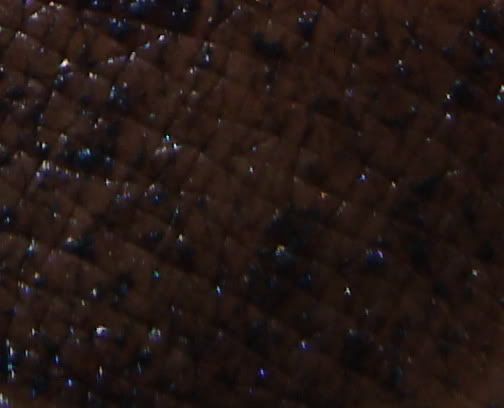 On top of another wax based eyeliner (the liner side of this duo) ?
Failure again...The wax in the glimmer side simple dissolve and wipe of the dark and pretty eyeliner and the glitter sink in during the process.
Since I determined to find a way to make it work (or just determined to bash Milani) , I though a wax based pencil would work well as a base for powdered eyeshadow....Well, the covered up glitter would show up as random, tiny bumps on the eyelid...
Anyway, after trying the
Run Way eyeshadow
and the
Infinite Eyeliner
, I just realized that Milani is pretty good at shitty product that looks promising at first sight, Boo...
(I still like their cream nail polish though.)