Much slower than Wet n Wild (who released their Christmas nail color collection back in September)Sinful Color and Sally Hansen both came up with their winter 2009 nail color collection.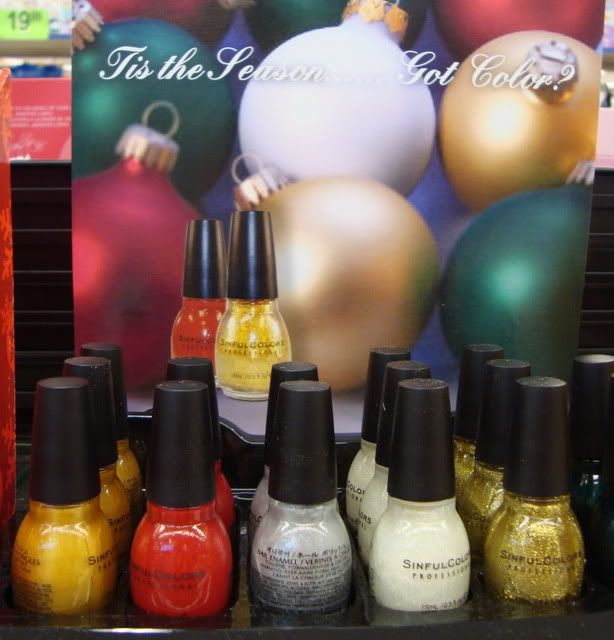 The gold, golden glitter, silver, white, red and blue nail colors from Sinful looks a bit tacky to me...For some reason I never feel much for this affordable salon nail color brand with a wide selection of shades. Anyway, let's head to something more interesting, Sally Hansen holiday gift box!
And here is an "Amazing" nail kit from Sally Hansen: Form the box, you can see a milky pink, cream lime, sky blue, teal and orange nail color (package wise it looks like polish from the
new Hard as Nail
line) and the model is wearing (completely different set of) cream white, purple, pink and red. Wow, 11 amazing nail essentials (value at 30 something) for 10 bucks only?
I would buy it but...
1.Sally Hansen nail polishes are kind of horrible for the price.
2.The box is not transparent (most gift sets has a window to showcase the gifts)
3.Beside the paper box, this is also sealed with tape so you can't even open and see what it is.
3.Here is that little asterisk saying "Product assortment varies by kit. Which is a nice way to say
"You are not getting what's on the box but you can't sue us because we have put this message here."
If you wonder what is in this kind of gift set, just take a look at the
WTF Sally Hansen Nail Kit
Scrangie Posted last year. (Not only Sally Hansen the company never replied to Scrangie's e-mail, they also decided to put the same trick again!)
I think it's quite dispicatble for companies to come up with this kind of gift set, most of the time people just think that it's a great gift (without breaking one's bank) for her friend over the Christmas...The recipient might hate this, nobody openly complains about a gift anyway so the person who spent the money never know she got cheated up with a bunch of worthless mini polishes.
Sally Hansen, shame on you.