If a goodies is good enough, one is never enough. That's why I went ahead and get a second shimmering cheek product from Jane after the
nice little blush/highlighter called Wisteria
. This time it's a shimmering bronzer. This compact is just so much prettier than Wisteria because there is more contract between the checkerboard colors.
Jane Shimmering bronzer in Tahiti. (Who needs MSF when you have Jane?) Is a shimmering pinkish bronzing powder with fine and smooth texture...Not to mention the super cute pan. I think it's more like a highlighting blush because I think bronzer can be use to create depth and they usually look dirty or too orange on me, this one just adds a bit of glow as well a slight hint of pinkish bronze color.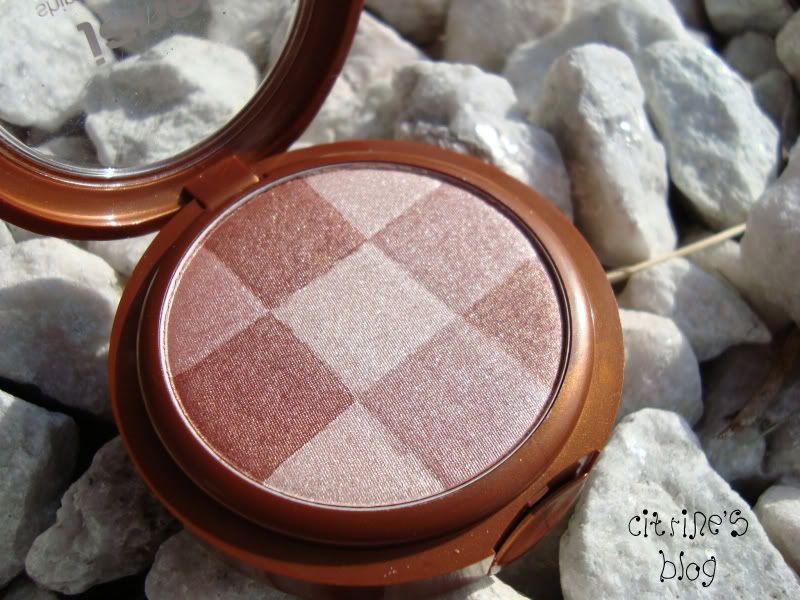 Texture wise, it's just as fine and silky as the shimmering blush wisteria. This time, there is more color. Added together, the three shades of brownish pink just give enough color to be noticeable, it's not even pink enough to call a flush yet, but it's nice enough that it makes me look sunkissed. (For blusher that make me look sunburnt no matter how I use it,
Anna Sui Face Color Accent in 400
is spot on...It's the most pointless blush I have ever owned, not to mention the compact broke after a year...)
Again, I wish it doesn't have this stupid design /a cavity at the back / brush that is too scratchy to be used.