What do you do with all the sunshine out there? Avoid it, embrace it or take advantage of the sunlight to get a nice glow? Anyway, since it would be very difficult to avoid sun here, I tan no matter what and nobody here uses parasol (not even hats) so I guess I will take advantage of the sun and get a glow from it, with the help of Jane.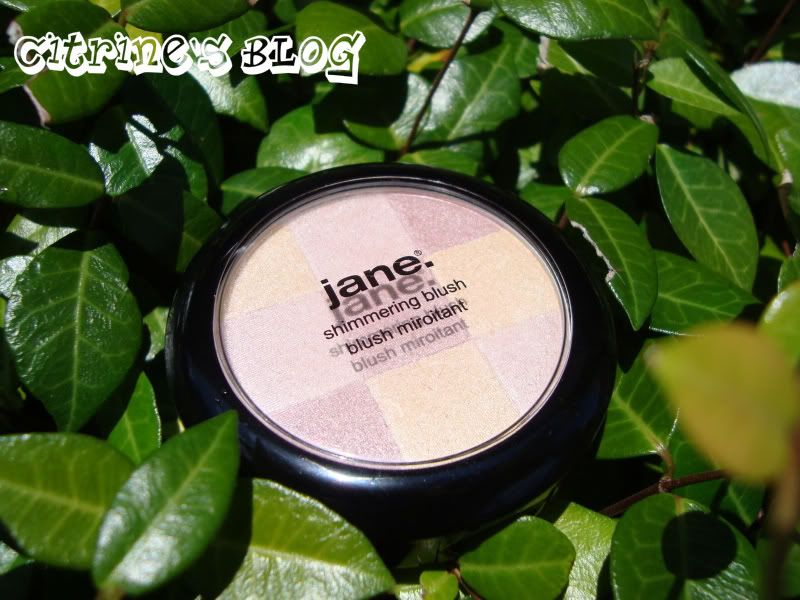 Jane Shimmering Blush in Wisteria is labeled as a shimmering blush although the color won't nessesarily make you "blush" like those pink or peachy ones. There are more than 6 gram of products (150% that of a MAC, Nars or Stila blush pan.) in a huge round pan which makes swiping quite easy. Beside the generous volumne, I also like the simple black round compact it has, which looks a lot sturdier than those of Wet n Wild, Maybeline or NYC.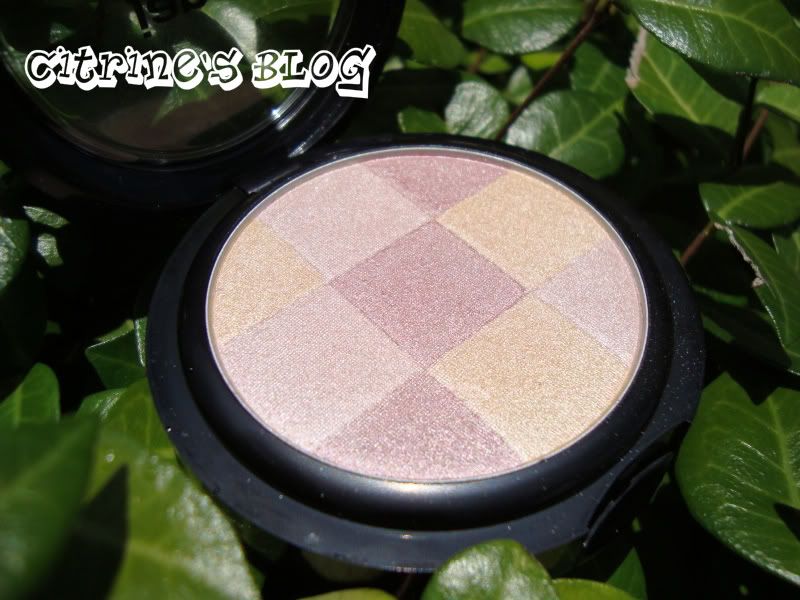 I wouldn't call it a blush because Wisteria is composed of three shimmering shades, none of which will result rosy cheeks: lilac-pink, soft golden yellow and deeper shade of mauve, arranged in a checker board mosaic pattern. I was thinking that since lilac usually neutralize yellow, so when you mixed up all the colors, the outcome should be some sort of neutral sheen.
For the 5-6 dollars price tag, the Jane shimmering blush powder itself is surprisingly fine textured (MAC totally looks like glittery chalk dust in comparison) and firmly pressed that you don't get a brush full of shimmering dust accidentally.
With each brush (Stila #21, my to go blusher brush, you should know that by now)stroke, the brush gives a really nice translucent sheen that give skin a really soft glow, nothing disco ball-like. For people whose cheeks flush easily, this is a very nice "colorless blush" that still give you a nice glow and dimension to your face, because of the translucent quality, it doesn't look harsh even when I am very tanned (comparing my face to my belly, or my skintone during other seasons.) I will try it during winter, maybe it will work even better when I am all pasty?
Of course, there is a huge cavity at the other side where you can find the mirror (in the most inconvienent way, you need to go back and forth each time...) and a useless brush. I hope they will get rid of these part and make the compact slimer so I can collect more of these!