When I got my Jane
Iredale
Eyeliner brush from the eBay seller, I also received a sample loose powder in Silver, the loose powder was so different, not only it was literally dazzling (the shimmer is very fine and each of them reflect light with a different intensity as if they come from
different
depth) the powder as felt very light to the touch...
I simply had to get more.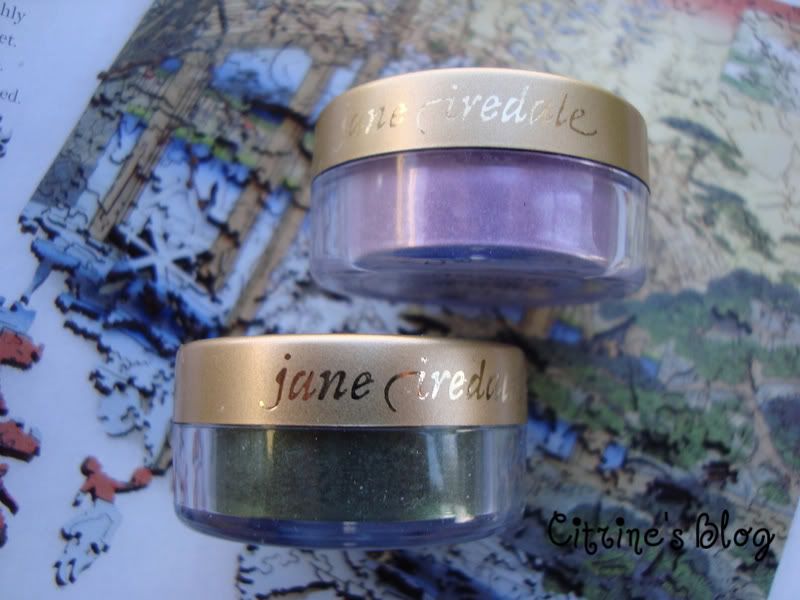 The Jane
Iredale
24K gold dust has the real thing (food grade 24 Karat gold flecks, hence the name) in it to create the jewel shine. And as expected, I played save and got the ones in Lilac and Green...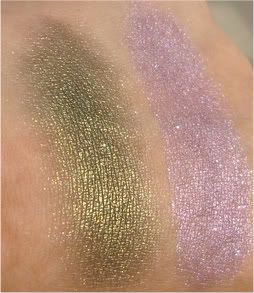 It's always difficult to take pictures of something with so many
blings
...First the multi-dimension the shadow has became all flat once captured...and in order to show the nice shimmer, I have to face it right under sun, which means, the colors got washed out a little bit as well.
Having said that, the real thing is a hell lot prettier than the swatch. Especially the Lilac, the over all finish is like a wet sheen and the silvery dimension make my eyes look like it's transparent. I think it might be my favorite lilac eye shadow I have so far.
The one in green is pretty as well, but not as much as the lilac...The color looks so rich and deep once it's in a glob, but when blended down, it's more of a moss green, there doesn't seem to be some dazzling silver dust in it...So I still prefer my
Stila
Shadow pan in jade better than it.
Overall the application isn't all that difficult either, since I have
a Stila brush that's made for this
kind of loose powder...