Neutrogena
is always in my opinion a somewhat expensive drugstore brand, (for someone who like a 3 dollars eyeshadow palette, this is expensive) many of their product goes all the way up to 13 dollars..and because of the price and somewhat boring package, I rarely look into the brand (for a natural look, I am quite fond of their wax free formula mascara although it smells horrid) until recently, I noticed a sale and this little piece of eye candy.
Neurtogena
healthy Blend Sheer Highlighting blush in #20 Fresh
This is actually my second blusher from
Neutrogena
(my first mineral blush in Rare Rose , although quite shimmery , it creates a really nice natural rosy glow but I couldn't stand the built-in applicator so I cut the case off and presses the remaining powder into an eyeshadow jar, click
here
to see what it looks like) . I remember hearing it from an
youtuber
who listed it as one of her choices of "best of drugstore" and I find the mosaic design quite cute. Of course, the sale was the main reason that I bought it though, since 12 dollars was a bit too much on a drugstore blush, 7 dollars sound much better!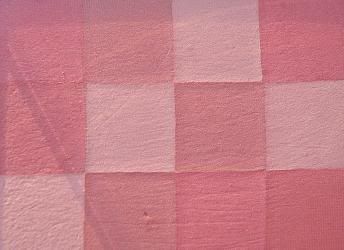 The blush looks very bright with three different shades of pink, they are designed this way so it matches a wide range of skin tone (claimed by the back), all I need is a swipe (with a flay blusher brush) on each cheek and it will give me a fresh, awake look, the pink does show, but not in a overly sweet barbie doll way so it's quite difficult to go wrong with this. The blush also has a a hit of some solver shimmer in to but they are more noticeable on the face but less noticeable on the blush when compared to the
BeneFit
Thrrob
powder blush. The color is quite similar but I enjoy benefit more for their sweet scent and cute packaging (
BeneFit
more pigmented too!)
One thing I noticed about pink powder blush is that (at least on my face), when I want to get a little bit of color by laying it, the finish becomes more opaque and I start to feel my face becoming chalky...it happens to all the pink powder blushers I have so I generally prefer a more pigmented one for a more transparent finish. Not saying this is a chalky blush, (Benefit and
Neutrogena
look more or less the same, nobody will notice that Benefit is 10% more pigmented buy just looking at your face.) I think it's just in my head and I still recommend this for people who want a pretty natural pink flush since I do enjoy using this.
Take a look at the brush, it's actually not lousy at all and it does a great job on picking up just the right amount of color. One reason it will be a better choice than Benefit for me is that it's so handy to touch up with this (you won't need a mirror for this or worry about the paper box getting squashed) for a fraction of the cost of Benefit, I don't see what's the reason not to pick this up.
Thanks for finishing reading this and you would want to stick around for my next review, this time, it's Nars Super Orgasm! (Are you excited?)