From the number of posts that are tagged with "Anna Sui", you will probably guess that I am a huge fan...But if you really ask me, I only
enjoy
using the mirrors from the brand, while others, (be it lip gloss, shadow or blusher) with purely mediocre quality, just lying around in my room, never get picked up for more than once or twice...(actually I have a rouge that I've finished half a tube just playing with it...I rarely walk out of my room with obvious makeup...except once when I dust a lilac shadow on my lids without remembering to remove it.)
I only have three mirror from Anna Sui and I found them quite handy and although a little bit steep, the good mood they gave me is definitely worth what I paid.
The hand mirror, I saw it in April two years ago in Victoria's Secret (Apparently they discontinued Anna Sui that very same summer.) And there were only two choices, this or the black on with a butterfly. Worrying about the folding mirror snaps into halves, I picked this instead. I found the rose pattern very exquisite and the carrying pouch quite useful as well.
It's quite small, but good enough for applying lip gloss or mascara...(I am one of those people who need to occupy her left hand wile apply stuff with her right) . The black plastic is quite durable since I've dropped it to the floor several times already and it's still lovely.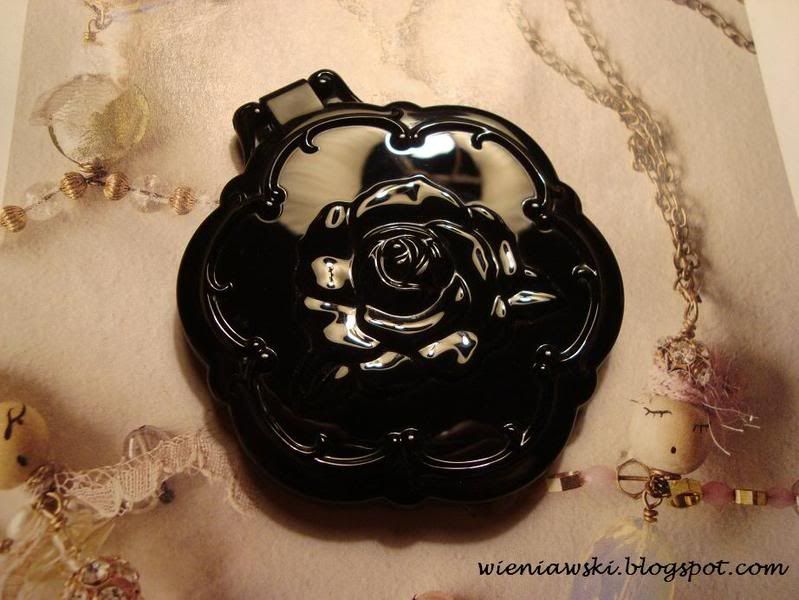 The rose double sided mirror, it has normal mirror on one side and a 2x magnifying one on the other, small and handy. I love it how light the mirror is so that it's very easy to carry around inside my bag or pocket and you can easily stand it up for quick application of whatever on your desk or the tissue box inside a toilet...(I just don't feel comfortable apply lip gloss in front of other people using the restroom...) Note that clasp doesn't shut as well after you use it for a while.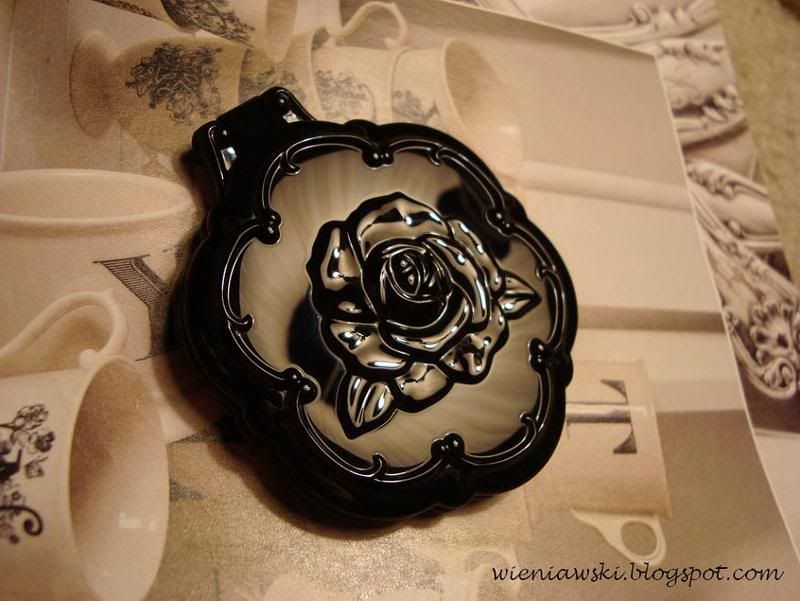 I love the sumptuous rose design in glossy black, so classy yet so cute. (Anna Sui items in white are lovely, but just doesn't hit the spot as well as the black one, the golden ones scratch off very easily if you don't
take care
of it...) They have a deep purple (and white one as well) version of this mirror, but I don't think that are as lovely as the original black one.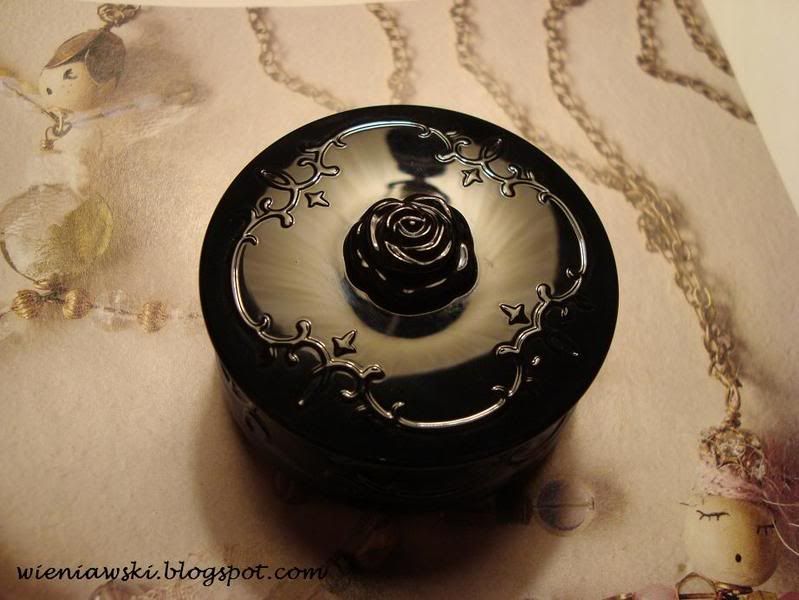 Off topic again, the pressed powder. Again, isn't the tiny rose relief in the center just so elegant?
One thing I am sorry to tell you that, I will probably not be reviewing any base makeup item on this blog. Not only they make my skin rough (I did indeed splurge on higher-end brand but they just never worked for me) and literally everything cakes. I realized that it's not a big deal showing my freckle or acne marks comparing wearing a mask that worsen my skin condition, so...no base make up (primer, foundation or powder here...)
I've got a pretty loose powder as well, but, I guess I will just let it stay there...The black jar with a rose pattern similar that that of the protective
foundation case
, is too pretty to be sold...(I am too lazy to sell anyway.)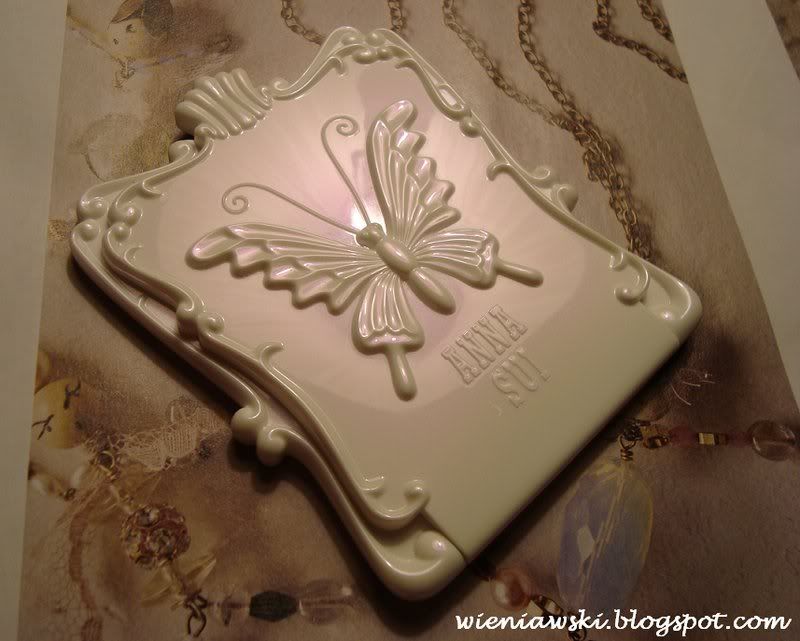 While I didn't pick up the black butterfly mirror because I found the rose design more appealing,then this one is just something worth collecting, in pinkish lilac sheen allover the white mirror, I think it's quite lovely! You can stand it up so it's the perfect sized table mirror. But then again, the side that shows is just the back of the mirror with just the words "Anna Sui", the side with the pretty patter will be facing the tabletop...What a stupid design.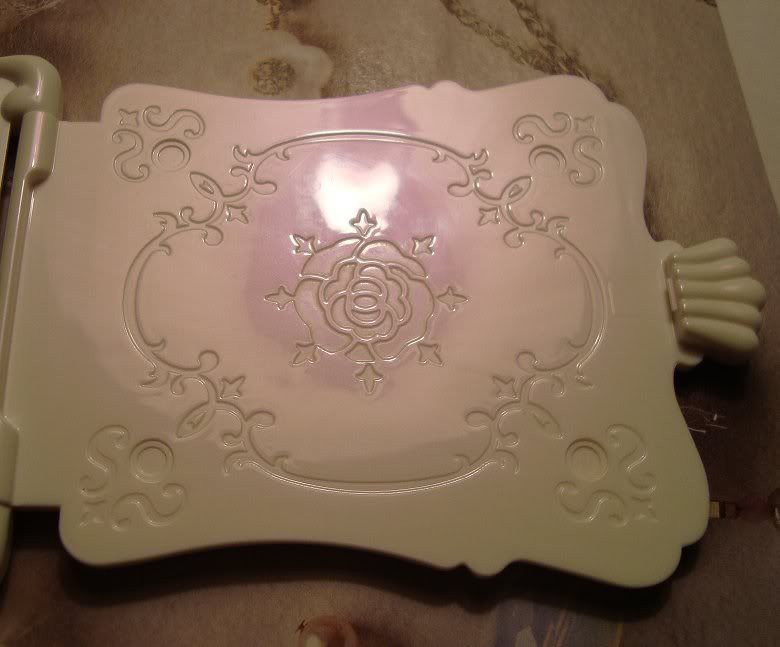 Actually it has a rose design on the back of the butterfly, but not really that pretty anyway.
So, if you are interest in Anna Sui items, grab the mirror for sure. But for the cosmetic...I don't know, for a twenty something lipstick or lip gloss, I would rather pay a few more dollars for Guerlain or Dior. (Or get couple of Sally Hansen for heaven's sake...They are among my staples.) .