I have mentioned in my other review that (I personally think) Suqqu Creamy Glow Moist lipstick is an utterly overpriced and well-packaged take on Revlon lip butter. While I enjoy my previous purchase (for about a month), I took a mental note to not buy it unless I find the color highly unique and wearable.
Of course, that is not the case with Momosuishou.
For people who are not aware of all the Suqqu buzz/fuzz going on, the brand released a highly elusive and exclusive palette EX-28 Hanashion for the fall (plus a generic coral lipstick I couldn't care less about) that was only available in Umeda Hankyu and UK Selfriges. Of course, everything sold out in a blink of eyes in Hankyu.
In anticipation of the overwhelming popularity of this (the case with most* limited edition Suqqu) palette, somebody decided to do us a big favor *snorts* by bundling the blingy-purple palette with the less coveted lipstick.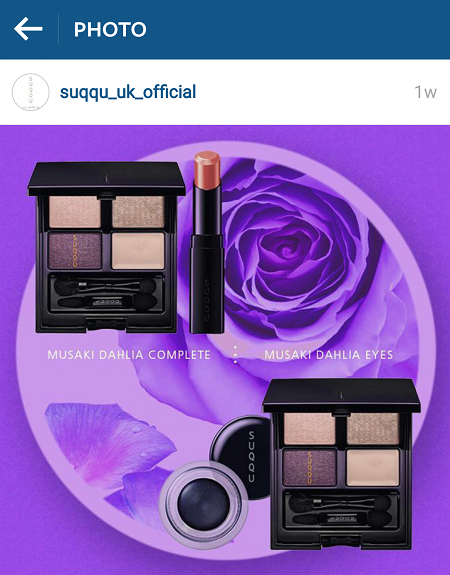 Instead of calling it what it is, Momosuishou down your throat. The sets (two boxed products put into bigger box) are called Musaki Cabbage Rose Murasaki Dahlia collection. Screen-capped for my lol, it has since been deleted.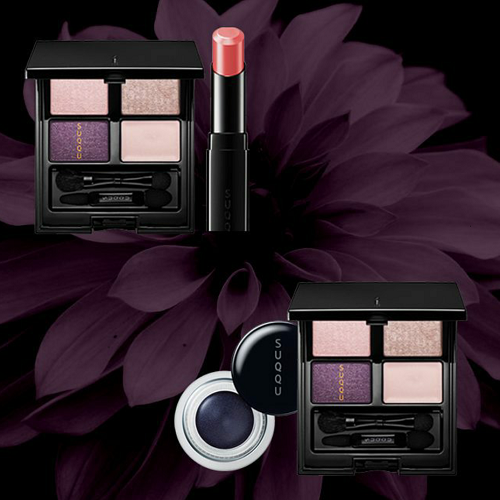 Here is the updated and more relevant poster. Let's not judge them for that bottom chunk of lipstick totally cropped (because I myself edit with Microsoft paint). I must be missing some references to Lady Murasaki (and how it also means the color purple, how clevah!). Sometimes I wonder if they know that 紫苑 Shion is Aster, a totally different species of flower.
You probably think I am resentful with my rant but I swear to Chris Christy that I am actually really grateful that I got this set. Hey, at least I am getting a freshly released lipstick in a color that I do wear...Instead of the Ruby Navy cream eyeliner (from Fall 2014).
Right now, both set are sold out thanks to the abundance of suckas (myself included). For the newest and last batch (if you stalk Selfridges diligently enough), you will be getting the Creamy Glow Moist EX-15 Benikiseki (another LE from Fall 2014 that clearly didn't sell well).
Phew, that was a long rant. Let's talk about the lipstick, shall we?
EX-18 Momosuishou (peach-pink crystal or rose quartz?) is what I call a generic pinky coral in the tube. There is no shimmer or hidden sparkle (which I like) and the fresh color looks great against the grown-up glossy black tube. All Suqqu lipsticks are designed to be scent-free but I smell a bit of plastic with this one.
Before I got the ex-18, I expected it to have the same formula as the Revlon's jelly-formula Lip Butter (my collection of which lacks a pink coral anyway). On the lips it's actually cream-balmy formula with a very glossy finish. In my stash, the texture is most similar to the Kiko Ultra Glossy Stylo in Red Coral, with Suqqu being thicker and glossier. The color of the two also look alike (only when you look at the sticks) but Momosuishou looks significantly warmer and nudy-peach on my wrist and lips.
Momosuishou on an El Nino Sunday(super warm one in December). My lip condition will continue to suck until May (I might update then with a less of a lip line galore). I swiped a thinner layer first then loaded it on right before taking the picture. The typical lipstick user shall expect a sheerer and clear finish. The lipstick feels comfortably balmy and the color color fades in less than two hours, similar to other lipsticks of this nature.
Momosuishou, Maybelline I Crave Coral Lunasol Light Beige Pink ( from the Skin Modeling Eyes Kit). The colors are all quite different and all, I think the Lunasol freebie is prettier and more understated.
So, this review isn't all that helpful (people want the palette enough will get it anyway). At least it drew a boundary for me in the future. While I enjoy the texture of some Suqqu shadow (namely the older ones then again I don't prefer those to more youthful/fun brands like Lunasol, Majolica and Visee), I am more likely skip the whole thing if they bundle things up again. Because I would rather use the money to pay my phone bill.
PS. I will probably take forever to review Hanashion (for people who are curious) given how I just started to wear Yosaizora from this past summer (the colors look so muddy on me, oyyy).