As a sucker for beauty products that look/smell like food (wait, I should just say I like to eat. Who doesn't though?),
Freeman Facial Polishing Mask with Charcoal and Black Sugar
was marked as a must-buy the first time I saw it. The inky black paste just reminds me of black sesame soup, a popular Chinese (admittedly very fattening) dessert that's not only fulfilling, but also has a bunch of natural oils that's great for your hair and skin.
The mask itself is glossy black and has the consistency of sugar scrub in a slightly syrupy base, the scent (a little floral and a bit of sugar cane) is a bit strong for a skincare product but still seems pleasant and not too overpowering for my nose.
As you can see from the picture, the granules of the mask/scrub are quite big and angular, which means it's has a high potency (not to mention it also gives a warming effect as it's rubbed) when its applied to slightly dampened skin. The down side would be the potential irritation it would cause when you use it by the sink (with cold water).
I found that when I use it in the shower, the steam and water would dissolve the edges and make the sugary bits smoother (it also makes it wash away a lot more quickly and not scrubbly or mask-like at all) and also turn it into a emollient (reads: it leaves film)serum. Each method has its pros and cons so you will need to adjust it based on your own skin type and need. As for the black detoxifying charcoal part, I can't really tell. At least it looks really cool.
Ingredient list of theFreeman Facial Polishing Mask Charcoal & Black Sugar.
Overall:
It's a fun product to use/smell and it's high potent. I really like it but I feel that there are better scrubs (being efficient but with more buffer/gentler on the skin) out there, just not as cool-looking. Anyway, It kinds of reminds me of a gimmicky food that's popular in China maybe a while back. People would buy that intestine-cleansing black charcoal rice because it "brings out all the impurity", thus give them black poop. And guess what, they are just excreting the very same thing (charcoal powder) they ingested...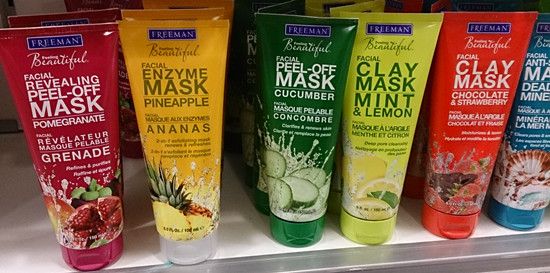 From the isle of Ulta - I spotted new Facial Revealing Pomegranate Mask (peel-off mask stretched my pores, will skip this one), Pineapple Facial Enzyme mask (already got it, smells like candy!) , Mint Lemon Clay mask (not sure how this is going to smell like) and Chocolate Strawberry (then clay?!) mask. I think they need to put out more yummy exfoliators!