Neutrogena finally went on sale back in April so I went ahead and bought another Ultra Sheer Liquid Sunscreen, which has a slightly new packaging and name (it's now called sunscreen instead of daily sunblock, according to the FDA rule). The sunscreen is more or less identical to the older version: Lightly and pleasantly scented, with a milky and slightly slippery texture that spreads well and dries quickly. On a cool, dry day it dries matte and invisibly, since it's very humid and hot in Texas summer, the sunscreen does feel a bit oily as it get mingled with my own perspiration. It's not as disgusting as how slippery the L'Oreal one gets though.
As for efficiency, I do get visibly tanned wearing it (though not 3 shades darker within an hour) but that's how my skin reacts with all American sunscreens anyway. Following the Neutrogena tradition, this sunscreen stings occasionally when my skin is vulnerable (after a pick-a-thon or whenever it feels cranky) and when it gets brings down to my eyes...
Overall:
Good enough for days when it's 75 F/24 C or under. A fail for Texas summer (but I have to finish it within 2-3 months since chemical sunscreen loses it stability after it's opened).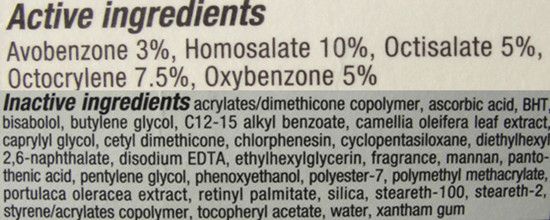 Ingredients of the Neutrogena Ultra Sheer sunscreen SPF 70
I also got a tube of The Norwegian Formula Lip Moisturizer SPF 15 (attached to a spray on sunscreen) so here is a short review. This has a smooth and not-too-waxy texture that leaves a layers of light weight oil-wax mixture. It's not as actively quenching (not quenching at all) as other wetter lip balms but it does seems a little more effective when I want to use it on top of drying lip stain (if I use gloss, the color will get washed off).
Bottom line:
One of the better wax-based balm out there. It's not saying much since I don't like them in general...