Physicians Formula Sexy Booster Glossy Stain is another drugstore version of the glossy-lip-color/stain (I am only aware of three: Maybelline, L'Oreal and this) available in US drugstore. The gimmick about this particular PF product is that it supposedly contains some pheromone-like substance that would enhance your sex appeal (which explains the heel charm and the lingerie-like accent).
The overall packaging is a little cheap-looking but I like the slanted wand with a pointy tip, it's very precise for the the gloss-stain's high pigmentation. The gloss stain has a medium to faint sweet scent that reminds me of Playdoh, a texture that's like liquid/gel/paste (in the worst-of-all-worlds kine of way). As a lip gloss, it's wet but not that shiny nor is it moisturizing. As a lipstick, it applies unevenly and shifts outside the lip boundary easily (a dead giveaway for "cheap" lipstick). As a stain it's alright but it's just as drying and uncomfortable.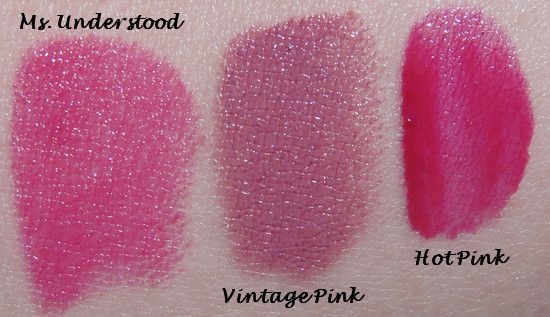 Max Factor Ms. Understood, Rimmel Vintage Pink and PF Sexy Booster Hot Pink - To me, this is more of a trashy magenta than hot pink (but at least the stain underneath the wet part is a little lighter).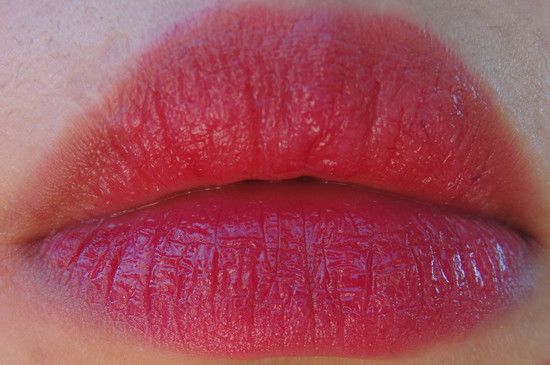 On the lips - Physicians Formula Sexy Booster Glossy Stain in Hot Pink
Overall: The color is gaudy, scent is weird and the wear is extremely uncomfortable (for my lip-skin type, at least) so I hate it. I didn't pay too much for it (7 extra bucks back reward and used the stick-on coupon) so I guess I could give it another try when I am having a great lips day?