CoverGirl Intense Shadow Blast
(released
two year ago
) is a range of overpriced cream shadow/primer in the dullest, most uninteresting color palette imaginable. I saw the green on on clearance 75% off at Target so I just grabbed it, thinking it would make a nice early spring toy.
The cream shadow comes in a cheap sponge applicator (that looks like it will break apart after the fifth use) and has a thin, watery consistency. Extreme Green is a golden sage green that becomes much lighter/mintier as it's blended out. This is one of the product that start losing its intensity as soon as it's blended and doesn't build up much so I guess the "Intense" and "Blast" are kind of a joke.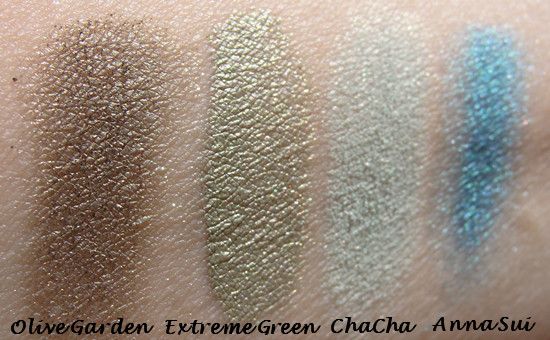 Essence Olive Garden, Extreme Green, Stila Cha Cha, Anna Sui 100 Metallic Eye Color (ancient)
Extreme (not) Green allover the lid, the thin layer of shadow stays on reasonably well but on my hooded lid, the pigment just migrate to my lash line and creates a bright eyeliner effect. I suppose on people with actual fold, this could crease. (Oh, I accidentally chopped a few of my lashes with a bad curler so I...cut the rest off with scissors to make things even...)
I do like it as a no-brainer allover the lid shade, it's brightening and I think (or maybe I am just hallucinating) the color can make my eyes brighter, less black and more brown? Overall: If all the intense shadow blast are sheer/watery like this (Makeup Alleys tells me yes), this would just be a huge rip-off at 8 dollars. Since I paid a little over 2 bucks for it, I guess it's still usable.