To take a little break from all the drugstore sighting, here is a boring post about my spring time skincare routine (which will soon change as the weather is getting warmer and warmer). Starting with the AM products: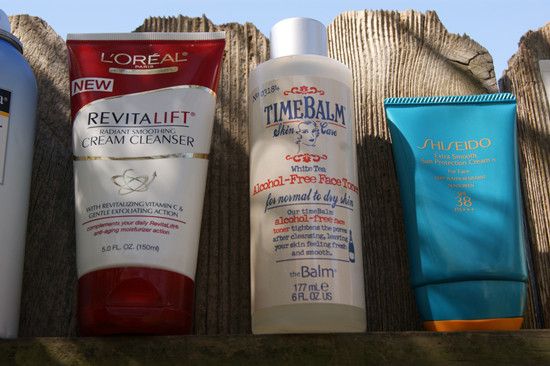 Cleanser - Either the L'Oreal RevitaLift cream cleanser or the foaming one by Lumene. Nothing outstanding but I guess they sort of get the job done. I will switch to the Nivea creme soft soap (I have two left but they can be no longer found in Big Lots/any store here). The Time Balm Toner (smells just like hospital) kind of helps to further-cleansing and refreshing (since the water here is pretty alkaline), I don't really like it but I guess I need to finish the bottle.
Sunscreen - The Shiseido is pretty amazing and it (unlike American sunscreen) actually stops me from getting tanned. Neutrogena one is sprayed on arms and leg (Yes, shorts season is already here).
On cooler and less sunny day, I slack off when it comes to the sun protection and use Simple vital vitamin day cream (SPF 15 and already quite oily) instead. The hydrating light moisturizer, in the other hand, is a god-sent: It feels light, quenching, cooling and absorbs right into the skin after PM cleansing.
Beside the Simple light moisturizer, I layers a pea-sized glob of Apicare honey cream over, which helps diminishing flakes and (I think) prevent break out. The Rimmel lash serum is usually applied on lashes and brows before moisturizer (but it still managed to turn milky and gross, after a 8 months of use). If I remember and / am not too lazy (most of the time I just use a squeeze-tube ones like Carmex or clear gloss) I layer on some Nivea Lip Butter, which are creamy/gentle way to soak off the dead skin on the lips.