The
YSL Rouge Pur Couture Vernis a Levres Glossy Stain
has been pretty popular since its release (in spring 2012...I think?) so while I played with the testers a bit (I totally got busted while I was trying to take a picture of the display with my camera...Being a thick-skinned veteran beauty blogger, I just sneaked back and snapped one with my phone) while waiting for a friend. Photo are, unfortunately, taken with flash 30 minutes after application (I can't find decent light in the mall anyway).
The texture of the YSL glossy stain is quite interesting, it feels light and watery-jelly and each "watery" dab holds quite a bit of pigments. Not sure how well it fares on the lips but on my arm, the shine stays fresh even after 30 minutes of wear time.
I don't remember if and how these are scented (because the testers are not too new and I was in a busy Sephora when people kept spraying stuff into the air) but I guess nothing strong or offensive. The color selection huge enough to please everyone but I guess I would go for the orange/coral/red.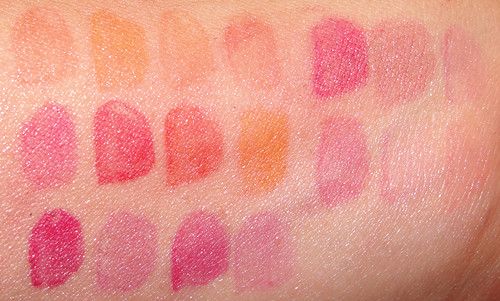 The stain left by the gloss - The pink ones seem to leave stronger stains. Overall: I can see why so many people love it (at least the hype seems much more deserved than the Rouge Volupte)but personally, I won't be buying any. I reckon there are many great lip products in the market and I simply can't buy every one of them...On the bright side, now I now what to expect when I review the L'Oreal shine stain.