The bath and body section of Marshall is always one of my favorite spots in the store (along with the clearance, snacks and paper products sections) since all the products are group together based on their colors and there are plenty fancy soaps to be sniffed (Don't worry, I only do it to the outer paper packaging). I picked up a piece of the Earth Therapeutics Exfoliating Soap since it smells rather nice and I like its color, which reminds me of matcha-candy.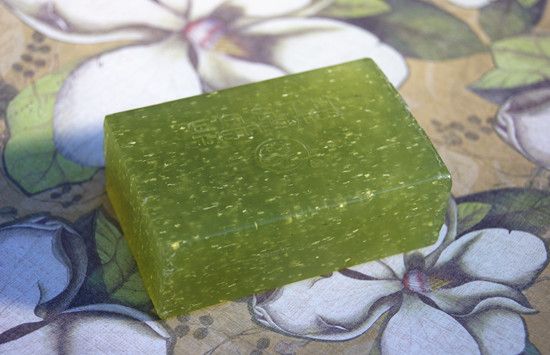 The Aloe Vera and Kiwi Loofah soap is basically a glycerin soap infused with shredded loofah. The fruit-scented soap itself is moderately foamy (a little thin when used with just hand and water but you can also use a bath loofah for a creamy lather) and cleanses pretty well without leaving residue or tightness. When rubbed to skin directly, the particles can be harsh and possibly painful so I just rub it on my palms to lather then use the foam on face. The soap, minus the scratchy, part is actually gentle enough to be used on the equatorial zone if you want. However, this will scratch the surface of your undergarments so keep that in mind, my fellow lazy@$$ who hand-wash their stuff during shower. (Now I feel like
Kate Hashimoto
's lost twin).
Overall: I like the smell and how it cleanse. I might get the other two scents in honey and peach (once I finish my 3 bottles of body wash and 3 bar soaps).
Ingredients: Sodium Palmate, Sodium Palm Kernelate, Water, Vegetable Glycerin, Palm Acid, Palm Kernel Acid, Aloe Vera, Kiwi Fruit Extract, Loofah, Sorbitol, Essential Aromatic Oils, Iron Oxides.