Blistex Moisture Melt Lip Protectant ($2) with SPF 15 is fairly new in the market and picked it up at Walgreens not too long ago (because I really like their stick balm), during a promotion. It turns out to be a runny blend of vaseline, oil and aloe vera (which is mostly water) that feels and tastes disgusting (because they added some artificial sweetener...Why?). Each tube contains 10 grams of product, dispensed in a round applicator.
Active Ingredients: Octinoxate (7.5%), Oxybenzone (2.5%), Petrolatum (31.7%)


Inactive Ingredients: Aloe Barbadensis Leaf Extract, Blue 1 Lake, Brassica Campestris, Aleurites Fordi (Chinawood) Oil (Copolymer), Butyrospermum Parkii (Shea) Butter, C10 30 Cholesterol/Lanesterol Esters, Cetyl Dimethicone, Cocos Nucifera (Coconut) Oil, Ethylhexyl Palmitate, Flavors, Hydrogenated Coconut Oil, Microcrystalline Wax, Mineral Oil, Persea Gratissima (Avocado) Oil, Phenoxyethanol, Polybutene, Polyethylene, Saccharin, Silica, Squalane
On the lips, Blistex Moisture just feels like a mixture of vaseline, water and oil...It's dampening but not quite moisturizing (the oil doesn't even stick around for that long since the formula is so runny) and there is always a stubborn bubble that wouldn't burst... Overall: It's useless (as a balm or a base for lip color) most of the time but it does provide a tiny bit of relief when my lips gets inflamed by sudden temperature/humidity change.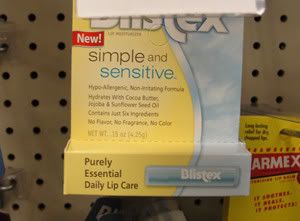 Some new balm sighting as space-filler- Blistex Simple and Sensitive lip balm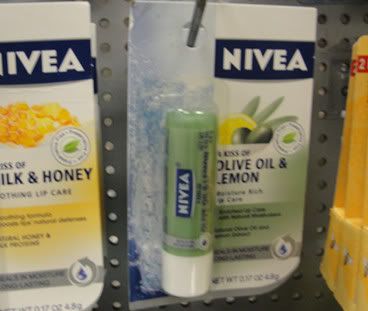 New flavor from Nivea - A Kiss of Olive Oil and Lemon (now I am really tempted)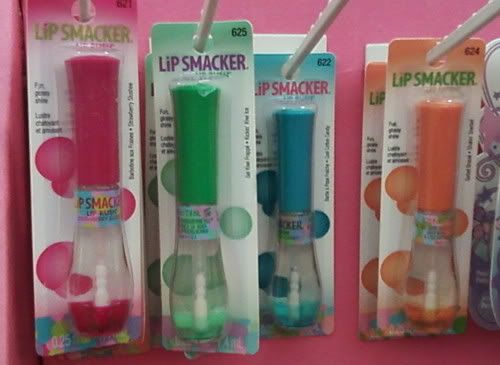 Lip Smacker Lip Burst gloss - Maybe I will try the orange one if I have a chance (when they go on sale...which is like never...)