Here I am, slowly reviewing all the
Revlon Just Bitten Balm Stains
I have hauled (I have six and that will be it...I think) - Romantic is a shimmer-free warm red that's fairly user friendly, as it has more of a warm brown base as opposed to an orange one.
The balm stick is hard, easy-enough to glide and has a minty scent. The consistency (thin and a little waxy), pigmentation (sheer and buildable) and lasting power (the waxy layer fades in 1-2 hours but the stain stains on longer, even though the color isn't too hard to remove) are pretty much the same as the other shimmer-free shades I have reviewed so I don't need to go into details here.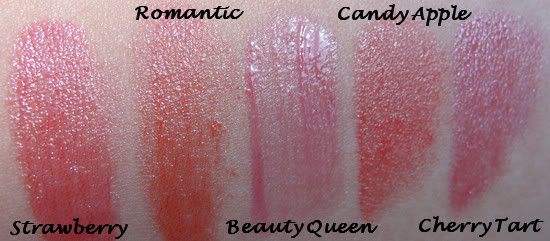 Jordana Sweet Strawberry, Romantic, The Balm Stainiac Beauty Queen, Revlon Lip Butter Candy Apple and Cherry Tart
Bare Lip for Reference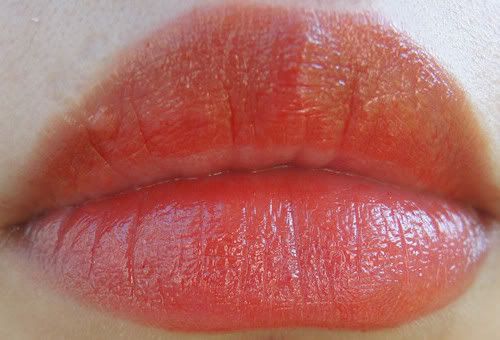 Romantics Balm Stain, apparently purple (lips) plus brown turns orange...I think the contrast (between my natural lip color and the balm stain) is making the slight shine appear more glare-like but in real life, the finish is more subdued and the color is user-friendly enough for me. (Of course, it looks better when I view it under yellow light). No point taken off since it's not really a fault on Revlon.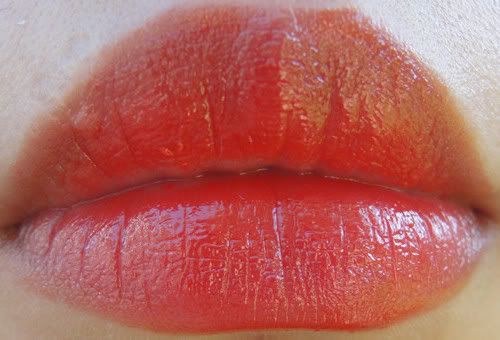 Romantic Layered with some Candy Apple lip butter (which really does a great job enhancing dry flakes that I didn't know I have) - less orange now. Overall: It looks brutal in the close up pictures but I actually really like it.