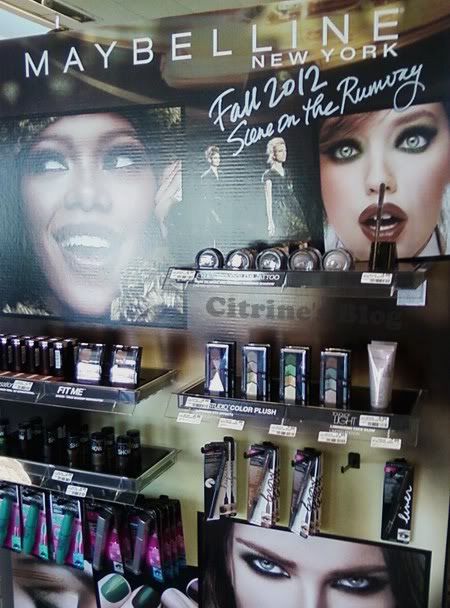 The Maybelline Fall 2012 Scene on the Runway limited edition collection is finally here in CVS (Can I just say "Ahhhhh" ?). The collection features plenty of greens (my favorite color) and neutral (my new found love) so I foreseen some serious wallet damage...
The crown jewel of the collection - Five shades of Color Tattoo eyeshadow. The rich brown at the left (which seems to have enough gray tone to be workable on my skin) and the olive green are jotted down on my to-buy list. Let's hope they are still there when a sale comes by...There is also a China made, synthetic cream eyeshadow brush that retails for 4.99. (Essence, China-made and fairly soft brush, is under 2. Just saying.)
Four color plush eyeshadow quad - Equally pretty but don't look dummy-friendly enough so I will skip them. A Touch of Light cream luminizer on the right.
Another pretty row - Five metallic/satiny ColorShow nail polish. The one on the very right reminds me of the L'Oreal
HIP eyeshadow pigment
in Intrepid. Again, I am digging forest and olive green (which has a duo-chrome effect in real life).
Six shades of brown-toned Colorsensational lipsticks - I suppose they should be really rich and creamy (if the formula is consistent) but I am not sure if they still have that standard CS lipstick smell. There are also two (or maybe just one) shades of matte reddish-brown blush in the collection, which I left out when I took the pictures.