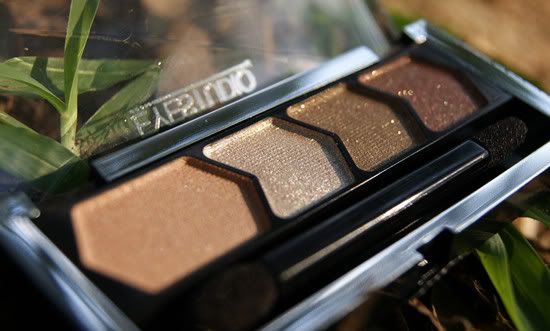 Maybelline Strut it Suede Color Plush eyeshadow quad is actually from their fall 2011 collection (my CVS kept it till mid June). The compact palette (like the rest in the range) retails for 10-11 dollars, comes with four little pans of chocolate-y goodness and a double sided sponge applicator. Beside the normal-looking sponge, there is also a harder, pointier side for eyeliner-application, the material isn't particularly smooth and it tends to pick/dig up too much product.
The four shades in the palette are: 1. Satiny warm beige that turns orange on my skin (not sure how to use it). 2. Silvery taupe that seems too metallic to be used as highlight, so I ended up using it as accents on the inner-corners. 3. Rich olive brown with matching olive-gold shimmer. 4. Deep shimmery chocolate brown with a copper base. Here is the arm swatch of the Strut it Suede palette, I thought the name is pretty spot-on.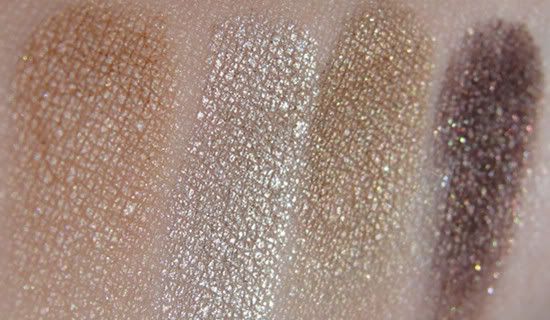 I jumped into the palette mainly for the taupe (duh...) but the two browns won me over. When used with a light hand (too much + my no skill results round of raccoon eyes), it creates sultry depth that doesn't feel too made-up or thick. The lasting power is decent, just a little better than those thicker/frostier shadows but I guess a tube of primer should take care of everything.
Overall: Like it (even though the price is a little too expensive) and can't wait to see/buy from their fall 2012 offerings!