New Wet n Wild display at Walgreen - Fergie Nail Color - Rock All Sides of Dutchess (I was under the impression that she was an actual duchess, speaking of living inside a cave...). Each bottle retails for 3.49 dollars, which is a little expensive for Wet n Wild/how cheap these polishes look, but I guess the Dutchess gotta eat...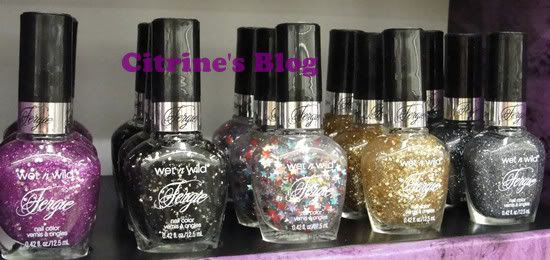 Purple glitter, black with silver glitter, star confetti, gold and charcoal glitter
Gold, Blue, Silver and Red Glitter (Just in time for the Independence Day manicure?), one shade is missing (sold out) already so I wonder what it looks like...
Last row- Beside the silver (which looked alright and totally dupable with polish either from Wet n Wild or Sinful Colors) the other shades looks like they would end up in the picked-over clearance basket very soon...