Maybelline Color Tattoo by Eye Studio cream/gel shadow
has successfully evoked my interest in eye makeup so I went ahead and picked up 6 (2 palettes and 4 of these Color Tattoo) shadows from the brand. Today I am showing the less neutral (the others I have are all brown/beige/taupe) one of the bunch: Edgy Emerald.
Edgy Emerald is a semi-opaque aqua green with a matching blue-green sheen (I supposed it does swatch pretty similar to the gem). I supposed that the consistency is deliberately made to be a little thinner, smoother and more slippery, so instead of getting a bold chunk of aqua green, the color appears more see through and sheen-like.
Stila Spring Ephemeral, Anna Sui Metallic Eye Color 200 (both are ancient), Maybelline Edgy Emerald and L'Oreal Hip pigment in Striving (discontinued 2 years ago). With my (nonexistent) eyeshadow blending skill, Edgy Emerald is a little hard to work with (not slap-on-and-go) but it's a great base for other teal shadows I own with its amazing (anything stays on for more than an hour is amazing and I get five with this) lasting power.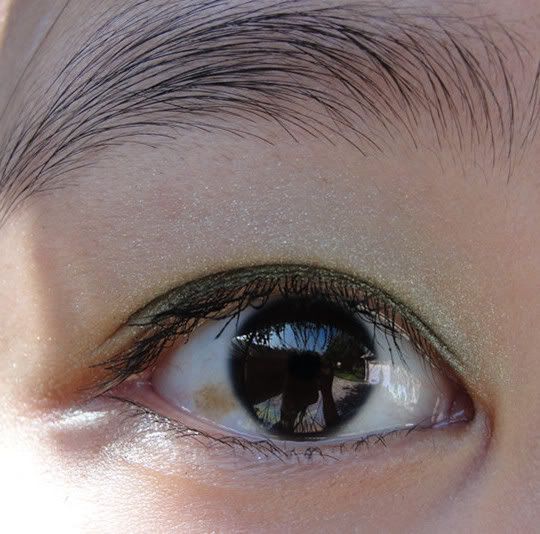 Edgy Emerald as a base for Stila Spring Ephemeral (then added some coat of Physicians Formula lash booster mascara, which just weight my curl down...) Overall: I don't like it as much as the neutral shades (I don't think there are many neutral in the range though) but it's still a neat product by itself.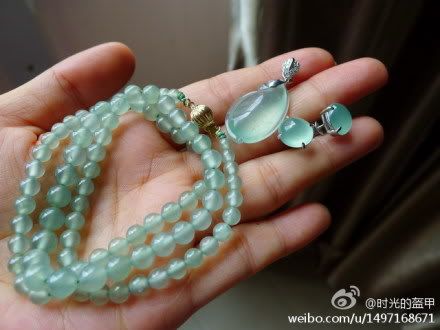 P.S. The color totally reminds me of aqua green 晴水 jadeite. Can't afford (don't plan to buy even if I can) it so I might as well wear the color as shadow!