Demeter Hello Kitty Cologne Spray
is a singular scented (as with most Demeter Fragrance Library product) pick-me-up spritz inspired by her favorites fruit: apples (Does she inhale it? Since she has no mouth...). It's still available at some drugstores for 15 dollars but I found it at clearance ($3.74) at Walgreens a few months back.
Just sniffing around the nozzle, I get a crisp Golden Delicious aroma. When I actually spritz it on, it becomes a lot more artificial, like the snotty green shampoo I used back in the 90s (a smell I associate with public bathroom in China, along with middle aged aunties walking around with their plastic sandals and nekid butts...) Anyway, this is truly just a pick me up spray, as the scent disappears right away (like when Snape confronted with shampoo/Garfield confronted with Monday) so I am already finished half a bottle after a few uses.
Overall: No complaint for how much (little) I paid but I guess if you want to spend 15 bucks for a summer scent, just head to CVS for some actual eau de toilette.
To fill the post with more content, here are some related spy cam pictures: Dial Hello Kitty Body Wash (BOGO next week at CVS) - Which I have already purchased (along with the green one), now I just need to finish up the other three bottles I have...
Pink Hello Kitty Microwave at Target (around 80 bucks?)
China made Hello Kitty mint (I think it's actually sour apple flavored candy) at Micheals - I got it as a container for my beads but the tin got disfigured right away.
Gold Pack duo at Target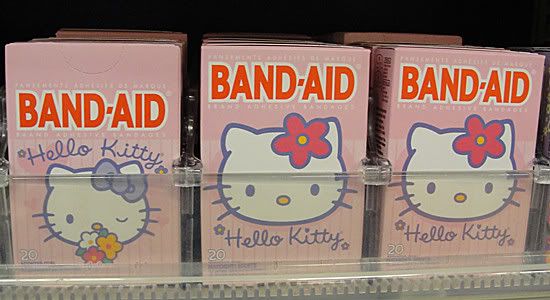 Hello Kitty Bandaid (I have seen Eva Chen used it in one of her nail of the day) - I used to use bandaid on my face to cover up awkward zit formation (Why do I get four of them...Line up in a straight line!?) so other people would think I injured my face doing some heroic deeds/during extreme sports or something like that...Except people never asked about it.