So...I have been hauling quite bit of orange cheek product for the past year and instead of have them clogging up my dashboard (it usually takes me anywhere from 5 months to 2 years to review a cheek product...) then have them spew out all at once, here is an overview on all the not-so-recent orange purchases (coupled with some oldies). I guess I am spewing them all out at once...
Paul and Joe Face Color in Moroccan Orange (08) - Looks golden orange in the pan but applies like a bright neon coral. With a careful application (involving a skunk brush, lighter-than-light brushing and concealed acne marks), it gives me a bright orange-soda cheek/warm red flush hybrid. When I am not as careful, it appears rash-like and enhances my freshly picked scabs (You know, oxygenated blood also looks coral-red...)
Paul and Joe Face Color in Harvest Moon (from a fall 2010 limited edition)
- What started the whole orange obsession. The golden matte orange (with a shimmery pinkish highlighter), really works all year round : Giving a sweet apricot-orange flush during winter and mimic a mild sunburn (the pretty kind) during summer.
Canmake Cream Cheek in Sweet Orange -
An orange coral with fine golden shimmer (kind of like the blush version of Maybelline
coral lustre
), the finish is cream-to-powder (or stain-like, good pigmentation without any dewiness)
and the color shows up like a warm reddish flush...
Canmake Powder Cheek Sugar Orange - Orange coral (my camera makes it looks so much redder) with negligible silver shimmer. The powder has a dry and thin (not brittle, it's just not smooth, soft and silicone-y like the Paul & Joe) texture that makes it apply sheer on the face, so a normal swipe on dry clean face looks like...urgh...warm red flush.
On a dampened canvas (thanks to Garnier moisturizer, which gives you a dewy face no matter you like it or not), it appears way more intense and warmer and brighter, giving you a bit of a cute sweet orange soda cheeks.
Stila Convertible Color in
Gladiola
- A reddish orange with a gel-cream formula, while it looks scary bright in the pan, it blends down to a very natural, lit-from-within kind of...warm red flush (see where this review is heading?).
Maybelline Dream Bouncy Blush in Candy Coral
- More of a novelty product than anything else. The sheer orange coral has a slippery texture that's fun to poke (but not as fun to smear allover the cheeks) and a more-than-natural look (as the color doesn't really build up).
Physicians Formula Cashmere Wear Blush in Warm - More of a salmon pink than orange (but it looks so similar to all those "oranges" so I might as well put it up here), the texture is silky, smooth (silicone, I guess?) and very powdery. The color itself appears bright-pink/coral red and can be overdone very easily. (Side note: Flimsiest packaging from PF ever...even worse than those organic wear paper compact so it just ruins it for me even the blush itself is decent).
Milani Baked Blush in Corallina
- A product without much fault by itself but the color is nothing special in my stash (shows up as a red flush, just like the rest of the orange blushers I own) and the compact is unnecessarily clunky.
Nars Powder Blush in Luster
- A golden apricot that might look a little out of place in this post. Once swatched, it's actually looks closer to orange bench mark (Harvest Moon) than most of those "supposedly orange". Or maybe I should say that a natural, flattering orange blush should resemble an apricot instead of actually looking orange?
After all these hauling, it turns out that Harvest Moon remains the only orange blush I have...So, time to look for more oranges!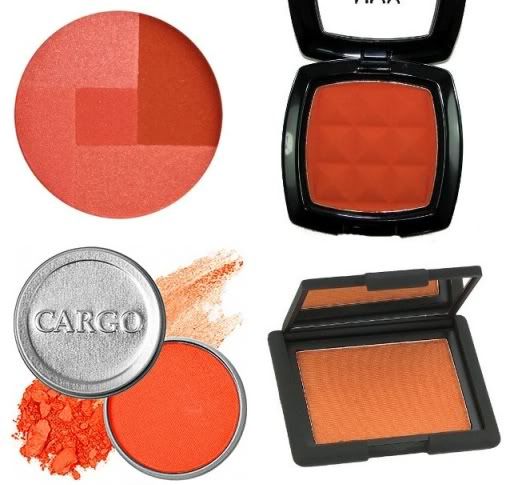 What used to be my orange-lemming list - I stopped wanting them as soon as I saw them in person (They just don't look that inviting, the packaging and the pans) ...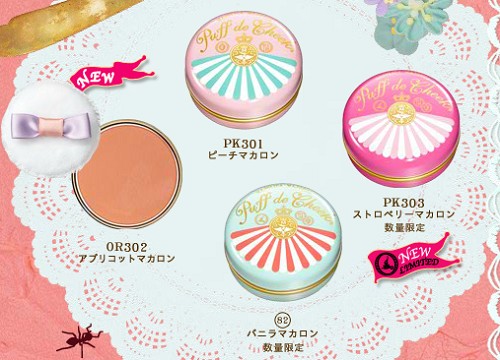 Another insanely popular orange blush that's on my radar - Shiseido Majolica Majorca in Apricot Macaron OR302 (Which has won several magazine awards, one of them being the "most popular blush for women in their 30s"...)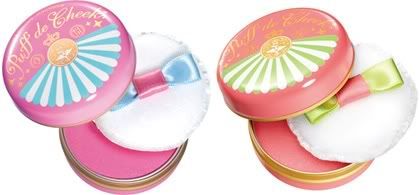 Then I got successfully distracted by their summer (not LE!) releases - Raspberry and Cherry Macarons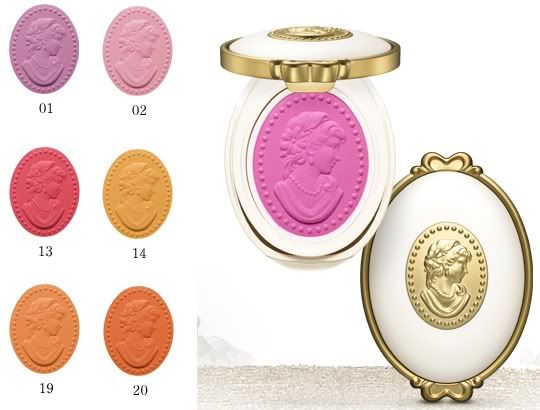 The newly introduced Les Merveilleuses (your highness?) de Ladurée (from the same maker of Paul & Joe and Anna Sui!) has an extensive cheek color range, including...Wait, is that a yellow blush? Anyway, the price is way out of my league (3900 yen for a refill only...which is around 50 bucks?) that I will only be admiring it from afar...